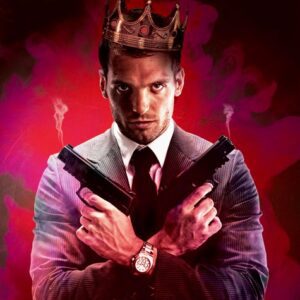 The Royal Court hosted a fascinating version of one of Shakespeare's most well-known tragedies, as The Lodestar Theatre Company staged 'Macbeth'.
The sister show to 'A Midsummer's Night's Dream' during The Liverpool Shakespeare Festival, Lodestar's Macbeth was set in modern-day gangland Liverpool.
In this context, the play was taken to another level as it was performed against a bac drop of gang culture, drug abuse and violence.
As the opening scene began, the two, hoodied, enemy gangs took to the stage in a street dance fight.
The scenic construction and artistry reflected this dark and perilous atmosphere with metal scaffolding and black paint covering the walls of the stage.
Pushing the narrative forward, Michael Ryan's Macbeth entered the scene, looking unkempt in a stained top and jeans and speaking with a rich Scouse accent.
He presented himself as a broken man even before we got to see his downfall, as he met The Witches to learn of their prophesy, that he would become king of his domain.
As the play progressed, Ryan's interpretation of Macbeth was very much one that focused on a noble and respected soldier crashing down into the depths of guilt and madness once he kills Duncan, allowing him to morph into the frightful and coldblooded killer we discover him to be.
Lady Macbeth, portrayed by Zoe Lister, is seen sorting cocaine when we first encounter her. Disturbed by the abusive relationship she has with her husband and consumed by the devastation that they lost a child together, Lister is the ultimate 'Devil Woman'.
Sporting brightly dyed red hair with a matching dress and heels, she was one of the only actors who performed without a Liverpudlian dialect, using her own voice to amplify the threat and danger she surrounded herself with.
The scheming and vindictive wife with the sole ambition of making sure her husband becomes King was played very well.
However, she managed to pick up on the subtlety of one of the Bard's most powerful female characters, and as her husband continued his murderous frenzy, she became increasingly concerned and afraid about Macbeth's behaviour.
Her descent into madness was well balanced, as it was clear how much the guilt of murdering Duncan had destroyed this once-powerful and driven woman. For her debut Shakespeare performance, Lister was genuinely impressive.
Overall, this modern take on the play added a freshness and accessibility to the story, thus making it feel much more exciting and thoroughly enjoyable.
The Liverpool Shakespeare Festival runs at the Royal Court until October 13th.