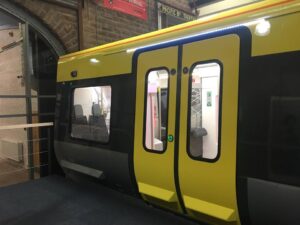 Commuters are being invited to see a realistic replica of what the new Merseyrail trains will look like when they are released in 2020.
This autumn, Merseyrail have put a modern full-sized mock-up of a carriage for public view in the Wirral and in Liverpool.
Already within the first few days of it being open, roughly 300 people have visited the train in the Wirral alone.
The modern design of the new trains is a part of a £460 million project, which is managed by Merseytravel, which replaces the current Merseyrail trains as they are nearly 40 years old.
Tracey Verrall, a worker at Merseyrail from Wirral, told JMU Journalism: "Most of the people who have seen the design have all been impressed with it, by seeing all the features that these new trains have got, and they are all welcoming to the fact that there is a lot more space and better seats.
"To improve the safety on the upcoming trains, there is now a sliding step technology which covers any sized gap between the train and the platforms, which most people have also been impressed by."
She added: "To take any feedback from the public, all the staff here carry a tablet on us, which the public can then fill in a feedback survey after they have seen the train."
Twitter: Harry Leahey
The new trains will come equipped with what's being called 'Sliding Step Technology'. This eliminates any gap between the train and the platform edge. Here it is in action. @JMUJournalism #Merseyrail pic.twitter.com/KERQBsf6D3

— Harry Leahey (@harryleahey1) 4 October 2018
Another Merseyrail worker, Johnathan Burgess, from Wirral, told JMU Journalism: "The idea of this particular mock-up is to give the public a chance to see the new design and to give their opinions on various features that are displayed throughout the train.
"Certain things on this design are still at a stage where they can be changed, so it's beneficial to the everyday user."
The mock-up trains will be held at Pacific Road, Birkenhead until October 14th from 8.00am-5.30pm Monday-Sunday, and 8.00am-7.30pm on Tuesdays. From November 5th-18th, the train will be shown to people at Liverpool Lime Street from 7.00am-6.30pm Monday–Sunday.