TV presenter, funnyman and disability champion Alex Brooker returned to his old stomping ground to share some of his experiences with journalism students.
After making the five-hour long journey from North London to Liverpool, Alex – who co-hosts Channel 4's The Last Leg – revealed some of his career-gold moments to an enthralled Redmonds' lecture theatre.
He said: "There are shows that I used to love watching before I went on television: Celebrity Juice, League of Their Own, Never Mind The Buzzcocks, Eight Out of Ten Cats, Would I Lie to You? – I've done all of them now and that's only within the first two and a half years! I'm not bragging … I just find that incredible."
JMU Journalism graduate Alex, 30, was born with hand deformities and a bone missing from his right leg, which means he has a prosthetic limb: "I am very lucky though. I have two younger brothers but my parents have always treated us all equal.
"I was never bullied at school – I went to an all-boys school and never shared a classroom with women till I came to my first university lecture, which was strange."
After graduating with an 'ok degree' in journalism from LJMU, Alex went on to work for the Press Association for four years as a reporter with skills across all fields.
Looking for a career change in 2012, Alex won a place on the British Paralympic shooting team as part of the Olympics games, which is where he got his break as a TV reporter.
Alex's career has been a series of twists and turns. He co-hosts the comedy/news show The Last Leg, and – as well as being a guest on several other talk shows – has been involved in campaigns promoting disability called 'End The Awkward' and a reporter during the Paralympics.
But Alex still has a dream job in mind: "One day, I would love to be a touch-line goal reporter – that would be my ideal job."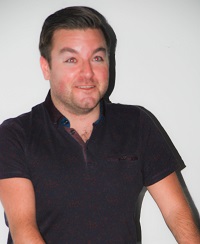 However, the newly-wed admitted that he didn't always try his hardest whilst studying.
He said "At college, I did cr*p in my AS levels. I remember I went to work at the local paper and we were doing a story on schools results and I had to go back and tell them that I got an E in my English – I remember the bloke saying: 'This doesn't bode well for you, does it?' – and he was right."
At university, Alex struggled with politics – something he laughs about now because his television career has enabled him to interview some of Britain's biggest political figures, including David Cameron, London mayor Boris Johnson and deputy PM Nick Clegg – who he says is 'actually a nice guy'.
A long-time Arsenal supporter, Alex is set to meet footballing royalty and his hero former striker Thierry Henry thanks to a contact he made at a recent black tie event. He claims this experience will be 'pant-wettingly good' – one of the perks of working in the media.
Alex also discussed the speculation immediately prior to Jeremy Clarkson's sacking from the BBC.
He said: "You've got to be easy to work with. If I went and pulled a stunt like Clarkson, I'd be out on my ear – and with good right too! You can't treat people like that in a workplace, no matter who you are."
The North London chatty man concluded by sharing some advice he'd picked up in his career.
"Always be nice to people you meet, as you don't know who could do you a favour one day; know your niche and, if you have a unique selling point, use it your advantage; don't compromise."
He added: "No-one wants to fail but don't be afraid of doing it. My degree in journalism has helped me massively gain success.
"It's all about making contacts, being versatile, being easy to work with and not having the Clarkson attitude!"
Watch Alex's interview with Nick Clegg on The Last Leg: