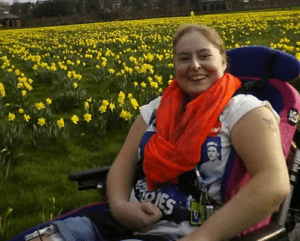 A Liverpool woman is reaching out for help to aid her dreams of becoming a Paralympic horse rider.
Chelsea O'Sullivan, 28, is trying to raise £2,000 for a ramp, which will help get her from her wheelchair to the saddle and enable her to compete at the sport's highest level.
She told JMU Journalism: "I've always, since a toddler, had a love for horses – from where, we don't know. My dad used to take me to see a horse every Sunday and feed her.
"I think that started my bond with horses. I've learnt how to sit up properly again since being back riding and I'm showing other physical and emotional health benefits."
The equestrian suffers a rare brain condition and was left wheelchair-bound after she was involved in a hit and run incident at 12 years old.
However, she does not want her disabilities to ruin her life, and instead wants to embrace them and make something good come from a bad situation.
Chelsea said: "Yes, it was hard getting back into my riding as I had to learn to even sit on the edge of the bed with six physiotherapists first then a wheelchair, never mind a saddle on a moving horse. The first time back in the saddle was amazing it makes me feel free and like the old me.
"I'm still in pain but it definitely distracts me from it so it does have physical health benefits and also has taught me to balance again and move my right arm all by myself."
Initially after the accident it appeared she had a lucky escape, but then the symptoms started and Chelsea was diagnosed with a brain injury. Despite being in constant agony throughout her body, which affects her sleep and causes nausea, she is keen to get back into her passion for riding.
Chelsea is working hard to improve her skills and is still in the early stages of getting back in the saddle, however her dreams of becoming a Paralympic equestrian and representing her country are strong.
She said: "I want to show my country what I can do other than sit in my wheelchair. I am more than that."
Facebook: Tammy Bray
https://www.facebook.com/tammy.bray.7/videos/1332408553448597/