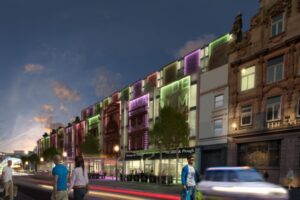 Funding worth £39m has been approved for a controversial scheme to redevelop Lime Street.
New structures will be built on the demolished Futurist Cinema site which was knocked down last month after a long running row between the developers and heritage campaigners.
The Court of Appeal rejected the campaigners'  'SAVE Britain's Heritage' bid to overturn planning permission back in August.
A number of other buildings still standing between the Crown and Vines pubs will be  demolished to make space for the redevelopment of the historic city street.
Regeneration and private rented sector  firm, Sigma, has secured funding for the scheme with Curlew Student Trust.
The scheme  is part of a long standing partnership with Liverpool City Council and will consist of 28,000 sq ft of retail and leisure units, including a 101-bedroom hotel, pre-let to Premier Inn, and a 412-bedroom student accommodation block. Unite Students has also been granted permission to create 1,078 student homes in the area at a cost of £70m.
YouTube: Future Liverpool
Neptune Developments Limited, Sigma's commercial development partner, is due to start construction before the end of the year. Planning permission had been obtained in August 2015.
Graham Barnet, Chief Executive of Sigma, said: "I am delighted to announce that we have secured funding for this major redevelopment in the heart of Liverpool, next to Lime Street Station, and would like to thank our partner, Neptune Developments, for all their efforts in managing the development aspects of the project on behalf of our partnership."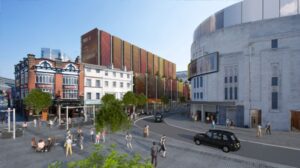 "The scheme forms part of the regeneration of the Lime Street and Knowledge Quarter areas, a project which is seen as a flagship development for the city."
Steve Parry, managing director of Neptune Developments, said: "We are very pleased to commence the redevelopment of the area around Lime Street Station.
"The scheme forms the first phase of our Knowledge Quarter project and will have a major impact on the gateway to Liverpool city centre.
"We are aiming to bring exciting new retail and leisure operators to the area and we are already making good progress in negotiations with a number of parties."
"We very much look forward to realising our efforts and creating a vibrant new neighbourhood in Liverpool."
The projected completion date for the project is the July 31st 2018