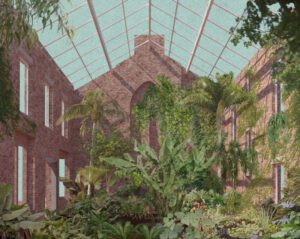 The architects' collective that shocked the art world by winning the 2015 Turner Prize for its works in Toxteth has received almost £250,000 of funding for a new project in the area.
Assemble, working in conjunction with the Granby 4 Streets Community Land Trust (CLT), was one of 39 applicants to be awarded development money through the Arts Council's £10.8m small capital grant programme.
With funding now secured, the group will look to kick on with plans for its 'Winter Garden and Common House' project. It will feature two derelict terraced properties being transformed into a set of space that will house an indoor garden, an artist residency area and a community gathering place.
Hazel Tilley, a nearby resident to the project and member of the Granby 4 Streets CLT, said of the funding: "It's absolutely essential. We live in a capitalist country and money means everything, you can't get by without it."
She told JMU Journalism: "If you're going to do a grand project, you're going to need a grand amount of money. It means the Winter Garden will be a reality. We're taking it to planning now and Liverpool City Council are now very much behind us with what we're trying to do."
Tilley also spoke of the relationship between the community and Assemble, saying: "It's a wonderful thing for Assemble and they've been wonderful for us — there's a great deal of mutuality and co-operation there — and what we hope the grant will do is build on that with the Winter Garden and the Common House."
Work will begin once the finer points of planning have been finalised, with a view to completion in April 2017.
Though this grant is expected to go a long way in making this new project a reality, Tilley also stated that exploring further funding avenues is the key to continuing the redevelopment of the Toxteth area.