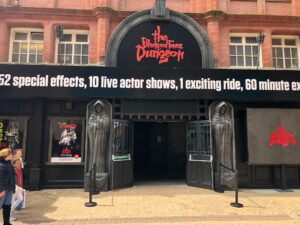 Blackpool is famous as a place for fun, families and great days out – although some of the most entertaining attractions may often get overlooked.
At the base of the landmark Tower, the Blackpool Tower Dungeons delve deep underground, as actors and staff ensure that all guests have a wickedly entertaining time.
Getting to Blackpool from Liverpool has recently been made very easy, as a direct train now runs from Liverpool Lime Street station, taking just over an hour. The journey itself is also quite picturesque, as the route passes through multiple green spaces, and allows for passengers to play the 'Who can spot the Tower first?' game.
The Dungeons are hard to miss, as they're very conveniently located underneath the Tower, with entrances on both the Promenade, and Bank Hey Street running parallel.
YouTube: Welcome to the Dungeons
However, if that still isn't enough to help guests spot this dark and intriguing place, the actors dressed in full costume, committing fully to their characters definitely will. Wandering up and down the street, they give passers-by a fright and – more importantly – a laugh, too!
The actors who greet customers outside then become tour guides as they tell gory stories of Britain's past, focussing mainly on Lancashire and nearby northern towns surrounding Blackpool.
As guests are guided through the dark dungeons from room to room, they come across many characters, less keen on making visitors scream than entertaining them – and teaching them something, too.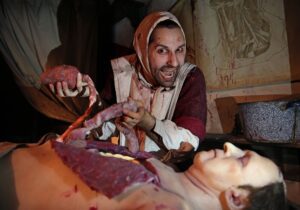 From the outside, it may seem that Blackpool Dungeons aren't for the faint-hearted. However, the children on the tour seemed to be having the most fun of all, as they watched their parents get chosen from the group to help the characters in their quests of teaching visitors about creepy tales from Britain's history.
Travelling through time, looking at torture, plagues, bloodshed and war, it would be hard for anyone to leave the tour saying they hadn't learnt something new.
Without giving too many surprises away, anyone who is first apprehensive about the journey down into the dungeons should put their fears aside.
Although the tour does have dark rooms, small spaces and some scary costumes, every single room on the trip is guaranteed to make visitors laugh, as they are immersed into this historical world, getting a chance to be a part of the story themselves.
Adults, grandparents, teenagers and children are all bound to find this tour entertaining, funny, frightening (in parts) and educational too. It's a great way for kids to learn some of Britain's more gruesome history, without even realising it!
It's true – educational adventures can be fun … even if they do make you jump and squeal at times too, that is.