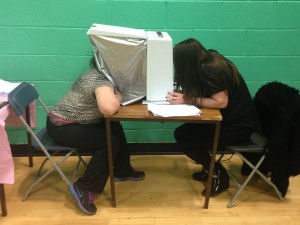 Liverpool women were given access to the city's health and wellbeing services at a public event in celebration of International Women's Day.
Locals were invited to Park Road Sports Centre in Toxteth to see what the various organisations had to offer, ranging from sexual health testing to UV skin cancer screening.
Charities such as the Women's Health Information and Support Centre (WHISC) and Merseyside's sexual assault referral centre, SAFE Place, were also on hand with information and advice.
Pauline Meredith from the Age Concern Community Health Ambassadors Team (CHAT) who staged the event, told JMU Journalism: "We promote health and wellbeing anywhere and everywhere. We go in pubs, supermarkets, hostels, community centres, sports centres, and doctor's surgeries.
"We've got Chlamydia testing, and a registered nurse from Liverpool Community Health talking about breast cancer awareness. The UV scanner is a really popular one at the minute due to the high-rate of skin cancer in Liverpool and the high-use of sun beds as well," she added.
Leah Pritchard, also from CHAT, was on hand to administer the UV skin cancer screening. "Liverpool has one of the highest rates of skin cancer," she said.
"People over a certain age generally always have sun-damaged skin, and the damage that the scanner picks up is irreversible and therefore stays with you for life. Every time you go from brown or pink back to white again, you are damaging your skin and every time the skin is damaged you are putting yourself more and more at risk of getting skin cancer.
"Many people think that going on sunbeds to prepare your skin prior to going on holiday helps but that's not the case. We've referred quite a few people to doctors after using this machine and they've had to have a biopsy to remove things like cancerous moles, so it's doing a good job saving lives."