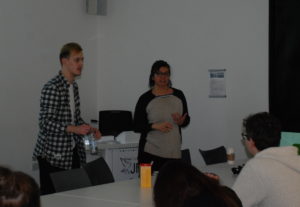 LJMU Journalism graduate Danyaal Yasin returned to the university this week to talk to current students about his work at Index on Censorship magazine and website.
He was joined by the editor of Index on Censorship Rachael Jolley to talk about the opportunity to apply for the Tim Hetherington Fellowship, a year-long paid editorial role at Index on Censorship. The Fellowship is only open to journalism students at LJMU.
Index on Censorship was created in 1972 and covers issues of freedom of expression, with four issues of around 100 pages published a year. Students were given an insight into what the magazine does and what it stands for before hearing about Danyaal's role and experience.
Danyaal, who graduated in 2016, is the third person to be awarded the Tim Hetherington Fellowship, with the first awarded to Josie Timms in 2015.
The Fellowship was set up in honour of Liverpool-born photojournalist and documentary maker Tim Hetherington, who was killed in Libya in 2011. It is operated in partnership with Index on Censorship and the Tim Hetherington Trust, which was set up to promote Tim's work and vision.
YouTube: Sara O'Hagan
Rachael and Danyaal took part in a Q&A where the editor asked Danyaal questions about his experience at IoC and what he has accomplished so far.
He spoke about different aspects of the internship, such as managing journalist Robert McCrumb's trip to Prague, and having to research topics that he had never come across before, such as the composer Shostakovich and his relationship with the Soviet state.
Danyaal told the gathered students: "As a journalist, you have to learn on the job.
"Even if you don't know anything about the interviewee, you have to research who you're interviewing, what it's about and the topic because I can't ask decent questions if I don't know much about it.
"Coming from university to Index was made easier because we had had newsdays every week and now we're using the same software when working with the magazine. So you're expected to transfer those skills as well and develop them."
Students also heard from Rachael about the work the organisation does to highlight and protect press freedom around the world.