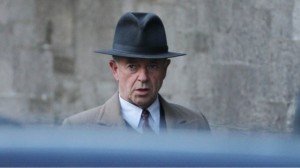 Foyle's War, one of ITV's most popular period dramas, will begin filming in Liverpool early next year.
The long-running 1940s detective drama has been renewed for another series to be aired in 2015. Production will be based at a former brewery building and filming will take place in various locations throughout the city from January to April next year.
Foyle's War, starring Michael Kitchen, has been a staple on the network since it aired in 2002. The drama follows Christopher Foyle, an MI5 officer investigating murder, robbery and espionage.
Liverpool has been chosen by the network as a backdrop to the series because of its architecture. The programme is set shortly after World War II and Liverpool will double as post-war London.
ITV Head of Drama Series, Jane Hudson said:"We are delighted to see the return of Foyle's War to ITV. Anthony Horowitz has written three outstanding episodes and the audience are in for a real treat. This series also gives us the chance to take the shoot to one of the jewels of the North West, Liverpool."
Recently, the popular Channel 4 series 'Utopia' resumed filming season two in Liverpool and 'Peaky Blinders', a BBC Two drama based in 1919 Birmingham, was also filmed in the city this year. In the past, blockbusters including Harry Potter and the Deathly Hallows, Fast and Furious 6 and Captain America: The First Avenger have all been partially filmed in Liverpool.
Foyle's War is set to create new jobs for local people interested in working on the production and getting experience in the industry. From 2011 to 2012, 894 filming days took place in Liverpool and brought in £19m to the local economy, Foyle's War alone is expected to inject millions of pounds back into the city.
All filming is organised by The Liverpool Film Office. Inspired by The New York Film Office, the organisation was the first of its type in Europe and has successfully promoted Liverpool to be the most filmed city outside of London in the UK.