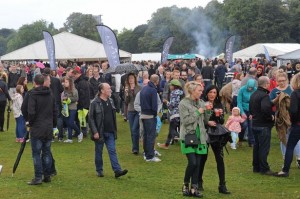 Thousands of people are expected to attend the Liverpool Food and Drink festival which is returning for a seventh consecutive year this autumn.
The now three-day event will start on Friday, 19th September in Sefton Park. The festival is a celebration of the city's local restaurant, café, bars and producers. It's proven popular in previous years and has grown in size annually.
Around 40,000 people are expected to attend this festival and can expect to sample food from city restaurants such as The Hub, Tapas Tapas, The Side Door, Miller and Carter and Neon Jamon.
Denise Harris, director of SK Events, which is putting on the festival, told JMU Journalism: "This year's show is set to be bigger and better than ever. We have introduced a new element to the festival by opening on the Friday evening.
"The evening is all about chilling out, enjoying a great atmosphere and having some fun. There will be plenty of entertainment, from live music and pub games to dodgems and fine dining.
"The area (Sefton Park) will be transformed overnight to become the familiar Liverpool Food and Drink festival, which will include the usual great mix of food, drink, TV chefs and entertainment.
"There will be more than 160 local chefs cooking up a feast for the public and over 60 producers showing their tasty treats."
The celebrations will continue with a programme of food and drink events across the city, from masterclasses and tastings to foodie films and industry events.
Among these will be the annual Liverpool Food and Drink Festival Awards, which are voted for by the public and are designed to recognise local talent in hospitality industry.