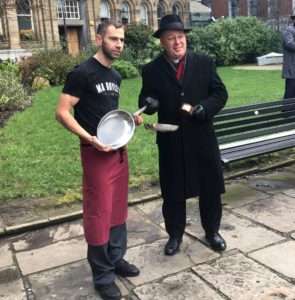 Liverpool's annual Pancake Day race returned to celebrate Shrove Tuesday with a sprint in the gardens of a church seeing some of the city's top chef's compete against each other.
Every year since 2005, Liverpool Parish Church has held the race as competitors took laps around the gardens of 'St Nick's', while also flipping a pancake.
According to previous winners, the trick is to make the pancake thick enough to withstand the weather conditions but also light enough to be flipped with ease.
The Rector of Liverpool, Reverend Dr Crispin Pailing, presented this year's winner, Netti Bega from the Ma Boyle's restaurant with an engraved pancake pan, along with bragging rights.
The 2020 champion Mr Bega told JMU Journalism after his victory: "This is the first time I've done it. I have only worked here [at Ma Boyle's] for a month but I really enjoyed it. I think the weather let us down a bit but it was really good fun."
YouTube: Ady Sargeant
Reverend Pailing spoke to JMU Journalism to discuss his plans for the rest of Lent, saying: "This a precursor to the penitential services that we have for lent.
"That starts tomorrow lunchtime here at Liverpool Parish Church at 12:15 with the Bishop of Liverpool and the other leaders of churches in Merseyside and we will be going out on the streets afterwards doing the traditional ceremony putting ashes on the foreheads of people.
"You don't have to come to church tomorrow because we will come to you!"