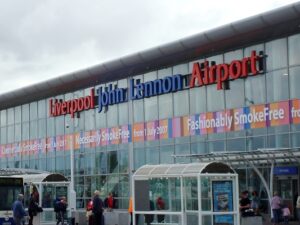 Flights from John Lennon Airport are set to become more convenient for passengers who have an attachment to their electronic devices.
The European Aviation Safety Agency (EASA) has announced guidance for passengers to use smartphones and tablets in flight-mode for the full duration of European flights, as part of a long-term plan for the agency to make it potentially possible for passengers to make and receive phone calls during a flight.
"This is a major step in the process of expanding the freedom to use personal electronic devices on-board aircraft without compromise in safety," said Patrick Ky, EASA Executive Director.
Currently passengers cannot use their personal electronic device during landing, take-off and taxiing, while throughout the rest of the flight they must be in 'flight mode' or 'airplane mode'.
The guidelines will be published at the end of November and airlines will be able to make their own assessment whether to implement the new changes.
Ryan Air flies to and from Liverpool John Lennon Airport and a spokesman for the airline told JMU Journalism they "will always consider any initiatives which will improve our passenger experience".
From December, passengers on flights from Liverpool and the rest of the UK could take advantage of the agency's new ruling.
EASA officials have said they "recognise the wide proliferation of personal electronic devices and the wish of the travelling public to use them everywhere". This new approval by the agency is subject to standard safety procedures on board aircrafts.
The EASA added: "Safety is our priority; it is important that passengers continue to listen to the safety briefings conducted by the crew and follow their instructions."