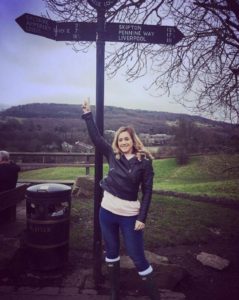 A personal trainer will embark on a trek down the Liverpool and Leeds Canal with a team of people to raise money for Starlight Children's Foundation UK.
Francesca Nicholson chose to do the 16-mile walk to create an achievable goal for people who are new to fitness.
She told JMU Journalism: "It was to give them something to aim for. I'm hoping once people have completed the work they will feel a huge sense of achievement and self-satisfaction which will help their confidence grow."
The recently-qualified fitness instructor from Huddersfield has taken part in multiple charity runs over the past two years, including Race For Life, Mud Run and Blackpool 10k, but hasn't undergone anything over six miles.
She said: "People always find charities close to their heart. I'm a mum of two girls and therefore I like to support children's charities. I like to think that if they ever needed that special support someday that there would be a charity on hand for me and that's why I like to do what I can where I can.
"The thought of parents, families, or children suffering is a hard thought to deal with at times, so any little amount of help surely matters."
Starlight UK is a children's foundation that provides hospital entertainment for children fighting serious illnesses.
YouTube: Peter Russell
It is currently the only children's charity delivering services into every children's ward in hospitals and hospices throughout England, Scotland, Wales, Northern Ireland, the Channel Islands and the Isle of Man.
Francesca added: "I'm definitely not alone in this one. A close friend of mine has helped to organise the event and we have another 10 people attending. Not all are fundraising, but so far we have raised over £500.
"I'm hoping it will be a successful and fun day out for all and if so, I may organise another event later in the year."
The walk begins on March 4th, however fundraising is already underway for donations here.