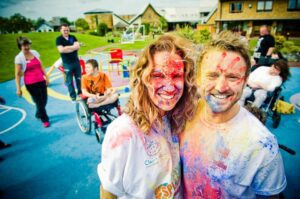 Sefton Park held a 'Splash Dash' fundraising event on Saturday in order to raise money for Liverpool's Claire House Children's Hospice.
Over 1,000 people took part in the fundraiser which involved a five kilometres fun run with paint stations. The stations were located at each kilometre of the route where 150 volunteers pelted participants with powder showers of paint.
Kirsty Simpson, Event Manager for Claire House Children's Hospice, told JMU Journalism: "The event was all about putting a smile on peoples faces."
The idea was that runners began the race in their whitest t-shirt and end up at the finish line with five different paint colours, made from hypoallergenic, water-soluble corn flower sprayed on to them, looking very much like a 'human rainbow'.
Official sponsors of the Claire House Splash Dash, Liverpool One, were in charge of the red paint station. Estate Director Chris Bliss, who officially started the run, said: "Claire House is such a vital resource for families across the region and all the team work to make it the happiest place possible.
"As a big supporter of the charity Liverpool One was really keen to get behind the very first Splash Dash event. I was delighted to be invited to officially start the race and meet more of the team from Claire House. It was a fantastic event where it was clear all participants had the best time getting colourful."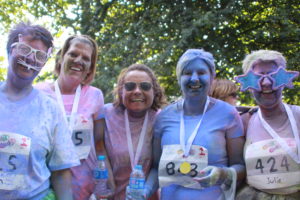 The event was estimated to raise £50,000, which would support the children and young people of the Wirral-based charity.The hospice currently provides respite and end-of-life and bereavement care for 163 children and young adults with complex medical needs. They also work to support the families, providing support and counseling for as long as is needed.
The Claire House Splash Dash was the first event of its kind in the area and organisers hope to help the hospice meet its £2.7million yearly fundraising target.
Video report by Chris Cunningham, JMU Journalism TV