The Journalism department at Liverpool John Moores University has unveiled the inaugural issue of its new alumni magazine.
The publication, entitled 'Headlines', showcases the success of a number of past LJMU Journalism graduates who have gone on to do well for themselves in their careers.
Click here to read the magazine >>
Programme Leader, Jackie Newton said: "The remarkable thing about this magazine is that it has been researched, written, designed and edited, all by our current final year students. I hope you'll enjoy reading it and agree it is a testament to their talents."
She added: "If you're an alumnus and we haven't featured you yet, don't worry. We'll be on your case for editions to come!"
Headed up by Kate Heathman, a senior lecturer at LJMU, the team included students Hannah Rogers, Emily Curren, Rochelle Beighton, Beth Hughes, James Gamble, Elle Spencer and Nathan Burgess.
Kate said: "It was a fun project from start to finish. The team worked really hard writing and designing the magazine and I think they all enjoyed speaking to some of our many graduates to hear about what they are doing now."
The 20-page magazine includes interviews with students who have gone into the journalism industry, working at companies such as The Liverpool Echo, OK magazine, ITV and the BBC.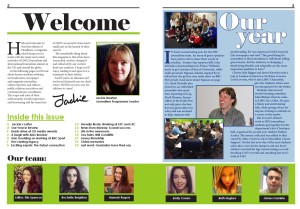 But that doesn't include those working in far more unusual places, Chester Zoo for example, as is the case of graduate Will Condliffe, who jokes about having a view of gibbons and orangutans from his office window, or comedian Alex Brooker, who has hosted television programmes such as The Last Leg and The Jump.
The students who worked on the magazine hope it will serve to inspire future journalism students and highlight what graduates of the course can go on to achieve.
Headlines team member and third year student, Beth Hughes, said: "It was reassuring to see how graduates from the course had done so well. I actually feel less worried now about getting a job after uni.
"There have been so many success stories from the course, I think it will really encourage future students to come here."
The magazine is now available on Issuu.com and will be distributed to current and prospective students, along with alumni and other members of the journalism community.