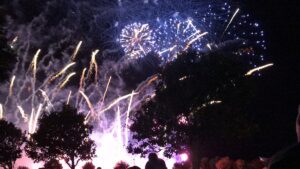 Heavy gusts of winds caused fear at a fireworks display which had to be cancelled as sparks and debris were landing on worried spectators.
The 2018 British Musical Fireworks Championships was called off after the sold-out weekend-long show became a nightmare for organisers on the last night when the weather conditions changed.
The buzz around Victoria Park in Southport on Sunday was clear to see, with 8,000 people in attendance to witness the explosive conclusion to the championships.
They were to be let down, however, when competition clerk, Chris Pearce, decided to bring the event to a halt, in order to preserve the safety of those in attendance on the final day.
One spectator, John Richmond, 64, who was accompanied by his wife Tracey, 60, had an experience to forget after a spent firework came down on him.
He told JMU Journalism: "I got hit by a piece of debris on my shoulder from the final sequence, but they had to end it because if someone got hurt all hell would've broken lose."
The Bank Hall resident added: "We're devastated it's been put to a halt, but it was the right thing to do. Nonetheless, it was fabulous and very emotional. What we got to see was amazing."
YouTube: SKJournalism
The only lights left shining came from the burger and coffee vans, as the fireworks were halted when an announcement rang across all corners of the park.
A spokesperson for the event organisers, Visit Southport, said: "The safety of our customers is our priority and our competition clerk felt that with the change in wind direction and speed, the conditions were no longer suitable to carry on with the competition."
The announcer stated the event had to be brought to a close as the following act, Distant Fireworks, was due to use similar fireworks.
Shortly after the cancellation of the event, a statement was released on Twitter crowning Illusion Fireworks Limited the eventual 2018 winners of the British Musical Fireworks Championships, making it a double success for the Oxfordshire-based fireworks company after also winning the innovation award.