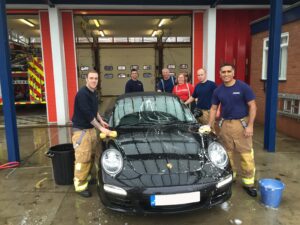 Firemen in Widnes and Runcorn will be taking part in a car wash this Saturday in a bid to raise money for The Fire Fighters Charity.
The charity aims to raise funds to go towards enhancing the quality of life of serving and retired firefighters as well as their families.
Twice a year, usually in March and September, there are Fire Fighters Charity car washes held across the majority of Cheshire fire stations.
This upcoming event will mark the 12th annual car wash where drivers will receive a full cleaning service, as well as road safety advice, at the Asda based on Milton Road this coming Saturday March 12th from 10am till 4pm.
Another event will be held at the Runcorn Fire Station on Heath Road, this Saturday from 10.30am to 3.30pm.
Sarah Dornford-May from the Fire Fighters Charity told JMU Journalism: "Not only do the car washes raise money, they are also an ideal way for our crews to engage with the public and give out safety information and general road safety information which ties in appropriately.
"We decided to raise money for this charity as it is a leading provider of a wide range of services that helps to improve the lives of firefighters who are not only currently serving but retired firefighters and their support staff.
"Sadly, our firefighters are the ones that see the results of bad road traffic accidents and we hope that the event will not only help to raise awareness of the dangers, but at the same time raising money for The Fire Fighters charity. We hope drivers do pop along to the occasion as it really will be able to save lives."