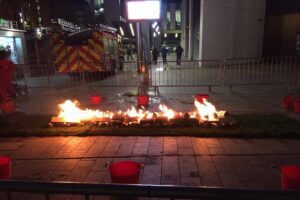 Fearless fundraisers took on the ultimate challenge of walking over hot coals of temperatures higher than 600 degrees to help out a local hospital.
The fiery spectacle was put on by The Royal Hospital's in-house R Charity down by the Sugar House Steps at Liverpool One on Tuesday evening.
The charity is appealing to raise £10m to purchase specialist equipment and improve services to ensure the new hospital goes beyond the NHS promise of care.
Summer 2017 is the projected opening date for the new 12-storey facility which will contain 646 beds in individual en-suite rooms, spread across 23 wards.
YouTube: Nicole Quinn, JMU Journalism
The event was managed by industry experts, UK Firewalk, which provided an hour's training to mentally prepare participants prior to braving the coals. The fire walk is designed to help overcome fear and to inspire people to do things they didn't think possible.
R Charity's events fundraiser, Ruth Waters, told JMU Journalism: "This is a real community charity. As sad as it is, everyone knows someone that has been in The Royal, or they've been in there themselves and they've got happy and sad stories to tell.
"Scousers are very much about helping each other and that has really shown tonight. People like to know that the money raised stays in the heart of Liverpool."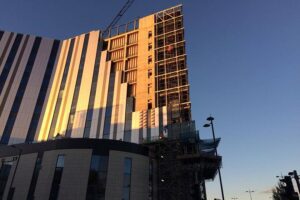 Ruth, who took on the firewalk for the first time, said: "I was dressed up as Roy, our mascot, flying a flag for the charity. It's amazing when you have that hour briefing. It shows how much power the mind has and it really is a case of mind over matter. I couldn't have done it otherwise."
Community fundraiser, Angela McShane, told JMU Journalism that more than £3,000 was expected to be raised, adding: "Every penny counts.
"Hopefully by doing this we will become a state-of-the-art hospital with the best equipment. It's our city, it's our charity and it's our hospital."