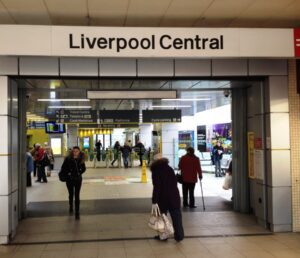 Train travellers faced disruption at Liverpool Central station yesterday after a fire alarm was activated following reports of smoke emerging from one of the escalators.
The station was quickly evacuated and many passengers were diverted to other parts of the local network as emergency services located the cause of the concern.
After assessing the area, fire crews concluded that the alarm was triggered due to smoke coming from an escalator which had unexpectedly overheated.
All trains arriving at Liverpool Central from Ormskirk were stopped at Moorfields, trains coming from Kirkby were turned back at Sandhills and all Hunts Cross services were running straight through Central without stopping. This temporary procedure took place until fire crews and police gave the all clear.
Sally Ralston, Corporate Responsibility Manager for Merseyrail, said: "Following fire service investigation of fire alarm activation they confirmed there was no fire. The alarm was activated due to a small problem with the escalator."
Lyndsay Young, a spokeswoman for Merseyside Fire and Rescue Service, confirmed: "Two appliances were in attendance and firefighters were at the scene for around 20 minutes."
After confirming there was no fire, officials gave the green light for the station to be reopened and by 3:10pm services were running to and from Liverpool Central once again.