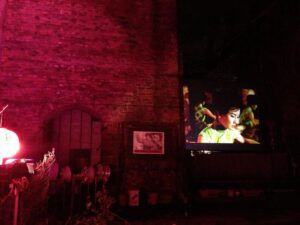 A new film festival begins in Liverpool today which aims to promote raw talent in the North of England as well as the rest of the world.
The Lift-Off Film Festival was founded in 2011 in London and after two successful years, founders and up-and-coming film makers Ben Pohlman and James Alexander decided to expand the festival, bringing it to Liverpool.
The week-long festival will see films that "look beyond the gloss" of the movie world and is described as an alternative film festival.
Those attending the festival will be see an eclectic line-up that has been whittled down from over 600 submissions in a range of narrative genre, documentary and live script readings.
Organisers have described the entries as: "Innovative and inspiring, deep and daring, dark and light-hearted: anything with a strong story that will move an audience."
Ben Pohlman said: "As Scousers are renowned for enthralling crowds with enthusiastic storytelling, you can expect an entertaining and challenging programme that's relevant to local audiences and international film-buffs in equal measure."
Over the course of the week, five screenings will be split between three venues: FACT cinema; Metal, an arts organisation situated within the formerly disused engine rooms of Edge Hill Train Station; and The Kazimier.
Organiser James Alexander told JMU Journalism: "We decided to expand to Liverpool because we were aware of the cultural quality and its ever-expanding art scene.
"Since its European award, Liverpool has developed not just in terms of music but also experimental theatre and performance. It was a hunch that we thought that indie filmmakers were developing a solid foundation within the city. And we were right; the level of talent in Liverpool is simply world class.
"We think that by exporting the excellent talent this city has to offer it will inspire others and really help us build an international indie film presence within the city, something we feel Liverpool really deserves."
The festival will run from 25th– 28th February.