JMU Journalism caught up with Figs in Wigs trio Alice Roots, Susannah Hurst and Rachel Porter to find out more about the dance group full of twists.
Figs in Wigs stand out. Whether it's being a Backstreet Boys impersonation act or their surreal "Cilla Black Bean Sauce" video, they meet nobody's standards of a typical dance group.
The Guardian described their work as "the transformation of the reality that surrounds them into a world they might want to live in."
Member Susannah Hurst recalled a dance show with a world record attempt at eating the most peas in three minutes with a cocktail stick.
"We thought that we were filming in a little black box theatre in the port, but we hadn't read the contract properly and we were in this amazing castle on the top of Naples overlooking the whole city. It was completely bonkers."
From speaking to the members of Figs in Wigs, it seemed as though they had their own micro-culture of how they create.
"There is a Figs in Wigsian approach to how we work," explained Alice. "There is a sort of Fear of the Fig.
"I've realised that we've created this thing, we call it 'The Curse of the Fig' in a negative way because we created a shared vocabulary and sense of what we like and we'd sometimes be in the creative process and we want to make decisions and we're like 'that's not very Figs in Wigs' and then we're like 'what??'"
Their latest live project, "Little Wimin" was a post-apocalyptic satirical take on the classic novel, "Little Women". The show features outlandish spectacle such as a person disguised as a Christmas tree, a giant margarita cocktail and an ice fountain in the shape of male genitalia.
Figs in Wigs had a two-week run of their show in London before it was cancelled when lockdown hit and the industry came to a halt.
The group was forced to focus on other projects. Firstly, they worked on making their "Little Wimin" script into a book, which released last month.
"The book was a big creative outlet for us," said Rachel. "Our plan with it was to try and capture the feeling of the show in the book rather than just writing what we say.
"Hopefully we'll be doing the show again in real life towards the end of this year."
Another project they pursued during lockdown was Astrology Bingo. This involves 90 people using their birth chart as a bingo card. All the players give their birth date, time, location, and then it makes a bespoke birthday card and a bingo card. This was all hosted by Figs in Wigs with guests performing cabaret acts.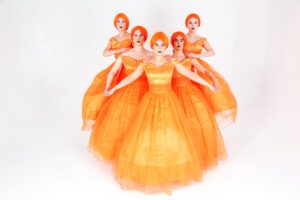 "There has been this push during the pandemic for people to move their work towards digital but for so many people, us included, the liveness of their art is at the core of it," said Rachel.
While Figs in Wigs have occupied themselves over the last year, there is still a wariness over the state of the industry when they return.
"Because we've been so isolated, I feel like we won't really know what the effects are until we're back out there again," said Susannah.
"If things are able to start back up again in the same way.
"When everything opens go and out see everything if you can encourage people to go back to theatres, cinemas, pubs and everywhere. Theatre was struggling anyway, people struggling to get audiences all over the country and I'm hoping if people get anything from this it's being able to value those live performances."