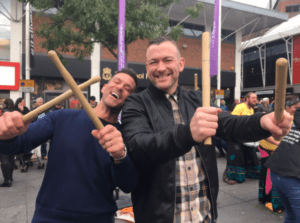 Public health workers gathered in Williamson Square to launch the Fit For Me campaign with the aim of making Liverpool the most active city by 2021.
Efforts to improve health, wellbeing, and quality of life of people in Liverpool have been made in the past, but Fit For Me is not just another health campaign; it intends to be a social movement.
The campaign was formed in July by the NHS Liverpool Clinical Commissioning Group, in partnership with the Liverpool City Council, and finally launched on Saturday.
They are encouraging people to dedicate at least 10 minutes of being active to their daily routine, such as taking the stairs instead of the elevator.
Campaign organiser, Pippa Sargent, told JMU Journalism: "It wasn't the social norm to be active in the minds of people we spoke to. Rather than it feeling like it's not what everybody does, we want to change it to people feeling like it is what everybody does around the city.
YouTube: JMU Journalism
"We're trying to engender the movement by making physical activity more accessible."
The NHS is targeting people in the 40-65 age group, who are at the most risk of health if they continue being inactive. However, the scheme addresses everybody who is 16 and over.
Liverpool's Director of Public Health, Dr Sandra Davies, reported that 63% of adults in the city are currently inactive. More than 400 deaths and 2,500 long-term conditions could be prevented annually in Liverpool just by being active.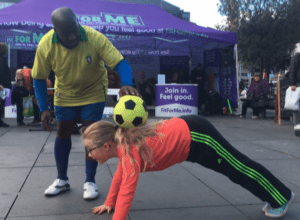 Pippa told JMU Journalism: "The guidelines are quite high around physical activity, which is 150 minutes a week. You can't give that message out to people, especially those who haven't been active. So just add 10 minutes to your daily routine – it shouldn't be something that feels like a task."
Residents can choose from more than 500 free sessions across the city for two weeks, including taster classes in yoga, pilates, zumba, wheelchair tennis, swimming, taekwondo, line dancing and social gardening.
The City Takeover campaign kicked off on October 22nd and goes on until November 5th.
Anyone living in Liverpool can take part in activities by downloading free passes online at www.fitforme.info/free-stuff/free-pass/ or see how active you are by taking a quiz at www.fitforme.info/how-active-am-i/activity-quiz/.
Video report: Kerri Fitzpatrick, JMU Journalism TV