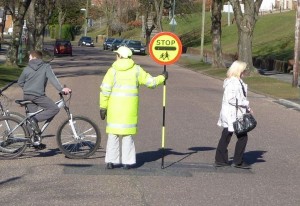 Parents and children in Knowsley are fighting to save their lollipop men and ladies after it emerged that six school crossing patrols could be axed.
Knowsley Council is carrying out a consultation on the future of six patrols in Huyton and Kirkby after officials reviewed all of the school crossings in the borough last year.
It is said that they found that they did not meet the criteria set out by the Road Safety Great Britain School Crossing Patrol Advisers Group, and the Royal Society for the Prevention of Accidents (RoSPA).
The Kirkby crossings under threat are on Park Brow Drive/Lydbury Crescent, Quarryside Drive/Bigdale Drive and Cherryfield Drive/Bewley Drive.
In Huyton, the patrols affected are, Manor Farm Road at Sandiway, Princess Drive/Saxby Road, which has two crossing locations, and Childwall Lane/Malvern Lane.
Joan Murphy, 72, Kirkby, told JMU Journalism: "I have been a lollipop lady now for over 30 years. I like knowing that I help hundreds of children each week cross the road safely.
"My worry is that if the six mentioned lollipop ladies get axed then each year more and more will be cut. I worry about the safety of the children, as not many schools in Knowsley are funded enough to keep their schools running with the right education and equipment needed for the children and to fund a lollipop lady as well.
Louise Dixon, whose son Thomas, attends Park Brow School in Kirkby, told JMU Journalism: "I will be outraged if the lollipop lady outside the school gets axed.
"I don't know how the council can even justify that it didn't meet the criteria standards. Each child attending those schools, their safety is important, so I don't understand how just six schools can be singled out."