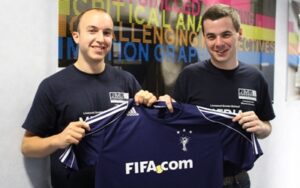 Two JMU Journalism graduates have been given full-time jobs by football's governing body, FIFA, after impressing on temporary contracts during the World Cup this summer.
Chris Shaw and Danny Masters, who graduated in July after completing a Journalism degree, worked for FIFA for two months before and throughout the finals among a team of six students from this course, and the pair were then invited to apply for a permanent role.
After completing a rigorous interview process, both were taken on and have immediately started in their positions as Editorial Assistants for the fifa.com website.
Former JMU Journalism Website Editor Chris said: "I was always hopeful that working for FIFA in the summer might eventually lead to similar work, but to get a full-time position with them so soon after graduating is really unbelievable.
"It is a fantastic opportunity and is the perfect job for me. It just goes to show how much you can achieve and that everybody should aim as high as possible."
Danny, who was this website's Chief Reporter last year, said: "It's amazing; it honestly hasn't sunk in yet. To get this as a first graduate job is beyond a dream, particularly when there are so few jobs around. I felt privileged enough to get the two months' work experience over the World Cup.
"Now I've just got to make sure I grasp the opportunity with both hands and really take advantage of what's in front of me."
The Journalism team was also boosted this summer by outstanding results in the National Student Survey, with the
course gaining an overall satisfaction rate of 91% from the class of 2010, which is the third highest among journalism courses across the country.
Head of Journalism, Professor Chris Frost, said: "It's great to see our graduates getting good jobs so soon after finishing their course; it confirms our faith in their ability. Our students work hard but are well served by the Journalism department at LJMU as our high ranking in the National Student Survey shows."
Despite the tough employment conditions, JMU graduates are successfully finding work in the industry. A key theme in all of these success stories is that many of them came from previous work experience placements through their degree course, with students making enough of an impression to be asked to return.
Hugh O'Connell has been working for Radio 4 as a freelance throughout the summer, having done well on an initial month-long placement with the You and Yours programme.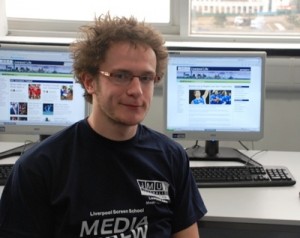 Daniel McKenzie and Luke Johnson both secured work before they finished university, earning positions at Widnes Weekly News and T3. Ruth Cobban is now working as a junior reporter for the Worcester Standard and the Evesham Observer, while Rhiannon Cooke has been at the Crewe Chronicle since July.
Nick Kelly and Kelly Cornwell have both found paid work at Manchester United FC, with Nick gaining a place in the club's marketing department, and Kelly doing freelance shifts at MUTV.
Liz Hewitt has a three-month unpaid placement at GMG Radio, with experience lined up across the company's three leading stations: Smooth FM, Real Radio and Rock Radio.
Sharan Sunner is employed as an Account Executive for MCG PR, a PR agency based in Leeds, while Rosie Waggott has earned a full-time position at Stephanie Churchill PR in London.
Chanelle Tourish is freelancing for an online media group and Ciara McCrory has an internship with a beauty PR company.
Gary Maiden may have ended up in an entirely different field in finance after taking up a position with the Bank of New York in their Manchester offices, but he credits his work on the JMU Journalism website with helping him land the job.
Gary said: "When I was invited for an interview I was asked to prepare a 20-minute presentation on a recent achievement of mine which I am proud of. I chose writing for the website and paid particular attention to my work on the Denise Fergus interview. It went really well and I got a call from my now boss later that day saying how impressed he was and he wanted me on his team as soon as possible."
JMU Journalism's former Music Editor, Stephen Kelly, has been working as a freelance journalist since graduating in 2009 and recently landed his dream job – covering Doctor Who for their official magazine, which includes interviewing the cast.
If you graduated from JMU Journalism and have found employment, please email us and let us know what you are up to these days.