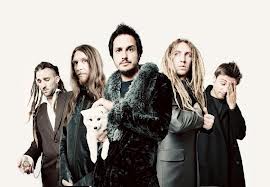 Liverpool venues, The Brink and The Lomax, will play host to a two-day music festival with a difference in aid of The HOPE project.
HOPE fest 2014 will offer around 30 live music performances over two nights, but rather than an entry fee, festival-goers are asked to donate an item that might be useful for a homeless person.
The HOPE project is a community volunteer group that walks the streets of Liverpool six nights a week, offering hot drinks, sandwiches and warm clothes to the homeless.
Founder of The HOPE project, Colin Dobie told JMUJournalism: "I set up the project to make a difference in the community, showing love and support to the Liverpool homeless community, to give back to society and to create something loving."
The group never take donations of money but accept donations in place of an entry fee at the festival. Approved items include: hat, scarf, socks, sleeping bag, block of cheese, jar of coffee, packet of tea bags, biscuits/chocolate, multipack of crisps, self-heating hand warmers, fabric shopping trolleys and thermal flasks.
The event is the brainchild of singer/songwriter Anne G Henney, who is an associate of The HOPE project. She told JMU Journalism: "I set up this music festival to bring the whole community together, all ages and from all backgrounds, to raise awareness of homelessness which is a growing problem all over the country, following government cuts.
"I hope that by holding HOPE Fest we will not only gather lots of useful donations – which will be put to direct use – but we will also engage people with the issue and create a ripple effect of people wanting to help. For example, on your way to work or uni in the morning, buy an extra cup of tea or slice of toast and pass it to somebody on the street."
The event will take place over two consecutive nights, on March 8th at The Brink and on March 9th at The Lomax. Those who donate a useful item will be treated to a variety of live acts taking to the stage each night, from local lads such as Joe Symes & The Loving Kind to Australian 'brutal pop' group Osaka Punch, all of whom will be giving their time for free in support of the cause.