The rarely-known world of Victorian-era fashion for ferns has been brought to life in a new instalment in Sefton Park.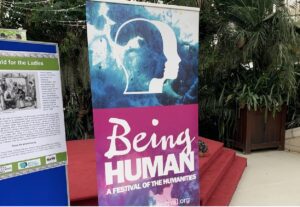 'Fern Crazy' is part of Liverpool's 'Being Human' festival, the country's national festival of humanities.
The event is all about engaging an audience with the research that is happening in the Liverpool Universities, and highlighting the Victorian fern craze.
Fern Crazy is being held at the Sefton Park Palm House. The flagship event of the festival is the recreation of a Victorian fernery, which will remain permanently at the Palm House, once the Being Human festival has ended.
Jude Piesse, English Literature lecturer at LJMU, told JMU Journalism: "Frns have got deep running routes in our culture. There are many folk tales about the powers ferns hold, which they can bestow onto people.
Twitter: Katie Preece
At Sefton Park Palm House for the #BeingHuman festival to see the Fern Crazy event. @JMUJournalism pic.twitter.com/mQbQ55bV7i

— Katie Preece (@kpreecejourn) November 14, 2019
As part of the recreation of the fernery at the Palm House, there are sessions at 10:30-11:30 and 15:45-16:45 where children can help in planting the new fernery.
"There are myths that link ferns to states of invisibility. For those who cultivated ferns and had them in their own homes, there is a nostalgia of green life in the move from the country to the city, were trying to bring that feeling into people's lives and homes. We really want to revive that feeling at the Palm House.
"We are going to have a display of rare books, many of which are from LJMU, that feature fern stories and articles about gardening.
"This is being funded by the British Association of Victorian Studies, so we've been able to increase our collection and buy a few really specialist books about ferns to feature as part of our display."
The event will run activities throughout the day for children and families to enjoy. There is an exhibition with posters and information all about the fern craze, a modern Edwardian case is being displayed, alongside a craft station that uses ferns to create Christmas cards and bookmarks.