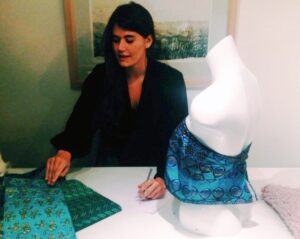 An entrepreneurial Liverpool John Moores University student is receiving worldwide attention in the fashion industry, including interest from major British magazines and models.
Media Production student, Lettie Pattinson, 20, is one half of the family team behind The Design Studio – an independent business making unique and exclusive clothing.
Lettie's mum, Sally, 53, a former Fashion and Textiles lecturer, makes the clothing and co-designs the pieces with her daughter, who also manages the shop's social media presence.
In just four months, their online presence has grown rapidly, with their Instagram account gaining almost 4,000 followers, including posts receiving 'likes' from model Daisy Lowe after the face of Burberry, Suki Waterhouse, posted a picture of her sporting one of The Design Studio's latest creations.
Lettie, who became inundated with orders following the post, told JMU Journalism: "It was incredible – even today I look at the picture and can't believe it. We couldn't have a better representative. She's a British beauty and so sophisticated.
"We received comments from the British Vogue account saying how much they liked our work, and that they would get in touch if they decide to feature us in a future issue.
"We got so excited when we heard from them and had to calm each other down. I mean, Vogue is the fashion bible!"
The Design Studio has shipped all around the world to places including Albania, Switzerland, California, Spain, Paris and New York.
Lettie says she intends to use the skills she has learnt on her university course to improve their business further, adding: "I love working with my mum. We're the best of friends and we both say we couldn't do it without the other."