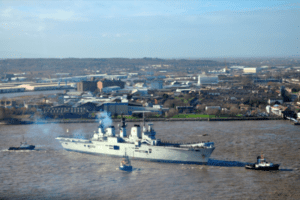 Liverpool welcomed the Royal Navy's last remaining aircraft carrier, HMS Illustrious, back to its shores on what could be her final call before withdrawal.
The vessel docked on the Mersey on Valentine's Day and is set to stay anchored until Monday at the Liverpool Cruise Terminal. Throughout it's time in Liverpool the ship will be open to the public for free.
After the retirement of Illustrious' fixed-wing Harrier II aircraft in 2010, the carrier now operates as one of two Royal Navy helicopter carriers.
The ship was commissioned in 1982 after the Falklands War, and is the Royal Navy's oldest active ship but is likely to be withdrawn from the fleet in 2014, after 32 years of service.
HMS Illustrious
1976 – The HMS Illustrious is laid down to be constructed
1978 – Launched after two years of work
1982 – Officially commissioned after the end of the Falklands conflict.
1990 – Helps maintain a no-fly-zone in Bosnia for the period of the war
1998 – Operates in the Persian Gulf enforcing no-fly-zone over Southern Iraq
2009 – Visits Liverpool for a six-day visit
2011 – Was made operational after a £40 million refit
2012 – UK Ministry of Defence announces HMS Illustrious will be preserved for the nation once she is decommissioned
In the past the ship has been deployed to Iraq in the early 90s, as well as Bosnia and Sierra Leone. Extensive maintenance in 2002 prevented her involvement in the Iraq War a decade ago .
Captain Martin Connell told JMU Journalism: "I've spent 26 years in the Royal Navy and I have been very privileged to command a ship like the HMS Illustrious. I originally started out with the intention of flying helicopters, but  it is undoubtedly the best part of the job when you are given the task of commanding as ship like this.
"This ship has had a great relationship with the city of Liverpool. We are delighted to be open to the general public, where anyone who is interested can come aboard, see the ship and speak to my sailors.
"As well as that we will also be holding a seminar for engineering students to come along and understand how important engineering is in the Royal Navy."
HMS Illustrious has had a long standing relationship with Liverpool, herself and her decommissioned sister ship, the Ark Royal and Invincible,  have both visited the city several times in the past.
Thousands are expected to climb aboard the ship known as 'Lusty' by the time she sets sail on Monday. The visit this weekend coincides with events held later in May to commemorate the 70th anniversary of the Battle of the Atlantic.
Tours start again on Sunday afternoon at noon to 4pm, and this will be the last chance the public will have to come on board the ship before its departure.
Additional reporting by Calum Metcalfe & Sinead Cunningham