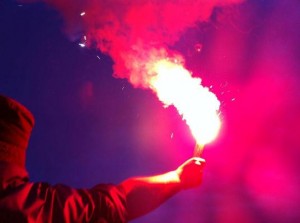 Local football fans have been warned about their use of dangerous explosives which could harm those around them.
The warning comes after a small minority of fans set off smoke bombs and mini fireworks before and during Sunday's Merseyside derby between Everton and Liverpool, which ended 2-2.
Merseyside Fire Service is currently investigating events which transpired but are yet to make any formal statement.
Although no-one was injured, some have voiced their concerns on forums, describing their experience in the Bullens Road Stand at Goodison Park.
Speaking on Liverpool fans' forum Red All Over The Land, user Boomer recalled 'a grim five minutes'.
He said: "I had to cover my eyes with my hood because of the smoke, then a banger s**t me up and immediately after that some steward was threatening to lash me out unless I told him who set it off.
"How was I supposed to know that with my hood over my eyes?! Unhappy, they are not true fans."
Fellow user L12 agreed with these comments, adding: "Whoever did it needs to take a long hard look at themselves and ask 'Why?'"
Police and stewards attempted to arrest the individual responsible but to no avail.
However one person posting under the name of BHB accused them of being heavy handed when asking if they had seen anything.
He added: "None of us had a clue but they didn't appear to understand that. We wouldn't drop it at our own feet and then just stand there to be nicked would we?"
Although such weapons are banned from all football stadia in the UK, there are websites which sell a variety of flares and smoke bombs and are readily available for delivery.
JMU Journalism discovered one website based in Poland even offered free delivery and promised to keep customer's details confidential when placing an order.
Despite football clubs promising to ban any offenders caught, it seems a minority are unfazed at the consequences of their actions.
Another forum user, Jockies' Scar, said: "I was smack in the middle of that smoke. I emerged like I was on Stars in their Eyes", whereas Ste thought it sounded like "someone was firing a gun or something".
This isn't the first time there have been reports of flares or smoke bombs being used at football matches.
A Plymouth Argyle supporter was recently jailed for two months and handed a six-year banning order after possessing a smoke bomb during a match at Home Park earlier this year.
In addition to these, smoke grenades were spotted in the away section at Anfield on two separate occasions when Oldham Athletic and Everton played Liverpool, with both sets of visiting supporters setting off blue smoke bombs.
It is a culture which seems to have been imported from the Ultras groups across mainland Europe and South America, where their colourful yet dangerous displays are often present on their terraces before every game.
One user on a Liverpool fans' forum believed the Everton fans felt antagonised by the smoke bomb being set off.
He said: "We had them on the go at Wembley. They had blue ones in their end at Wembley. Plenty of them in the Park End nearest to our section sang 'Scum!' to us also."