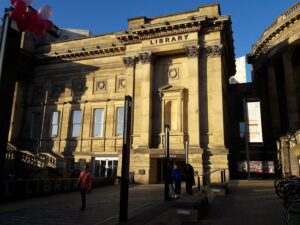 Delving into the secret past of your family has long held a particular fascination and an event at Liverpool Central Library offered clues and hints as to how to go about it.
There was plenty for all to learn at the library's new Heritage and Culture Day on Saturday.
The Picton Reading Room hosted over 40 stalls, with organisations present ranging from the Friends of Anfield Cemetery to local HIV charity Sahir House.
The main focus of the event, which is expected to become an annual feature on the library's calendar, was giving local people the knowledge to explore their family history.
Liverpool and SW Lancashire History Society ran the Heritage and Culture Day in partnership with the library, the group normally runs sessions on Tuesday afternoons there to help those wanting to find out about their ancestors.
Sylvia Bawden, a volunteer with Liverpool and SW Lancashire Family History Society, noted the popularity of family history research.
She told JMU Journalism: "There is no lack of interest because of 'Who Do You Think You Are?'. We always know that when there is a programme on the television, we will have an influx.
"They think it is easy and it is not," she added, warning that "18 months" worth of research often happened off-screen, so members of the public should expect to commit more than "an afternoon" to tracing their ancestors.
YouTube: Maisie Harvey
Nearby, the Friends of Anfield Cemetery held a stall, and secretary of the charity Tom Bradburn spoke of the group's ambitions.
He said: "What we are trying to do is to get Anfield Cemetery off Historic England's 'at risk' register and build an International Heritage and Visitor Centre."
This will help protect the site for future generations, and educate both local people and those from far away on the rich history of Anfield Cemetery's residents.
"There's more people in that cemetery than there is in Liverpool now," Mr Bradburn added.
The group has previously been allocated lottery funding for a heritage trail, 'Lifting the Lids', which has meant visitors to the site are now able to find out about the people buried there by reading information boards. The construction of an International Heritage and Visitor Centre will build on this, as well as providing facilities for funerals.
In addition to the many stalls at the event a series of talks were held, which covered topics including DNA testing and the Irish in the North West.