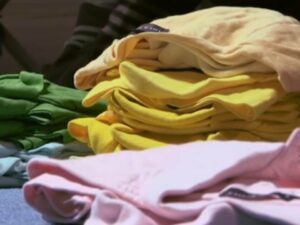 Fake designer clothing is being handed out in Liverpool to help people living in extreme poverty get through winter.
The counterfeit clothes, bedding and footwear were seized by Trading Standards Officers from Liverpool City Council. This is following the clampdown on fake designer clothing and goods being sold across the internet and in markets across the UK.
The labels have been removed and rebranded by the national charity, His Church. The industrial sewing machines they use to patch over pirated labels were given to them by UK customs officials, who had seized the machines from criminal gangs. British Trading Standards authorities now hand over 90 percent of the clothes they receive to the charity.
Charity co-ordinator Richard Humphrey told JMU Journalism: "We provide a solution for counterfeit (and genuine) clothing which are de-branded, re-branded and then given to vulnerable people at home and abroad."
His Church has removed all these costs and has been passing on the high quality goods to homeless centre across the UK. The charity has even had phone calls from America, with Tommy Hilfiger wanting its help to take counterfeit goods.
Mr Humphrey told JMU Journalism: "When they called us from the States they said they believed we were the world leaders in rebranding counterfeit clothes. So we went over to Belgium and picked up 1,600 pairs of fake jeans, which we're now rebranding with our own logo."
Customs and trading standards spend thousands on storing fake clothes each year while waiting for a court decision. Once the items have been proven to be fake, the authorities face further incineration or landfill costs.
His Church has recently given out fake Liverpool and Everton kits to the Liverpool Homeless Football Club. The club operates throughout Merseyside helping rebuild lives through football.
The latest batches of items are to be handed out to people in need in the Lodge Lane area. This is after the city council's Healthy Homes team raised concerns about some Lodge Lane residents' ability to stay warm during the cold winter. This is especially the case after the rise in fuel costs.
Lord councillor Tim Beaumont told Liverpool Confidential: "As we face winter, the hard work of the Healthy Homes team is needed more than ever. The community support work they're planning along with Trading Standards will help families in Liverpool stay warm and safe."