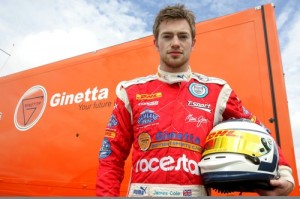 Formula 2 driver James Cole has had a lot to think about this weekend following the death of fellow professional Dan Wheldon.
The 23-year-old Liverpool-based driver has made a sensational rise in the racing world and currently competes in the division below the likes of Sebastian Vettel and Lewis Hamilton. James was horrified on Sunday when Dan Wheldon, the 33-year-old British driver, died in Las Vegas after suffering head injuries in a crash involving 15 cars in an IndyCar race.
James Cole told JMU Journalism exclusively how he felt about Wheldon's death: "It's extremely sad what happened in Vegas on Sunday. I was watching the race live on Sky Sports and as soon as it happened I knew it was bad. I didn't know Dan directly but I know his team owner and many other members of the IndyCar family. I mainly feel for his wife and two boys. He went out doing what he loved."
High-speed races carry dangers and risks for all drivers but this will not prevent Cole from getting back into his car. When asked if events like Dan Wheldon's death deterred him, he replied:"Absolutely not. It's devastating when thesethings happen. But if you saw a plane crash on the news would that stop people flying? I'm very lucky to be doing what I do. There are risks in every aspect of life."
Having raced at a competitive level for five years, Cole is no stranger to injury, and he was hit by a carwhen he was 11, suffering serious head injuries. Professional driving also brings its own  problems and Cole, who lives at the Albert Dock, told JMU Journalism about his experiences.
The Southport-born driver said: "I've had a couple of serious crashes, my worst was in 2007. I was second on the grid and the guy who was leading ran wide of the corner and his car picked up half a brick. It spun in his tyre and smashed into my helmet and knocked me out and then I crashed about 120mph into the wall. That one hurt a little bit!"
Cole believes that there are enough precautions in place to prevent fatalities in the future. He said: "I think motorsport as a whole is safe, it can never be too safe, but statistically it's amazing. People need to remember the rareness off this accident. It was a total freak accident. It wasn't a car failure or track failure. It was 15 seconds of chaos and destruction. I don't think anything of that magnitude will be seen again."
The last person to be killed in Formula 2, the level Cole currently races in, was Henry Surtees in 2009. Cole said: "Death is such a taboo subject in racing. It's always there lingering but it's never spoken about. Every driver will believe that it will never happen to them, and I suppose we all actually take for granted the safety in motorsport."
The former LIPA student wants to break into Formula 1 in the next few years but understands how tough it will be. He explained the difficulty of being promoted and what he needs to do to get there.
Cole said: "The key is sponsorship. It is so hard to get into Formula 1 because you need the right sponsor and of course you need the right ability. My sponsor at the moment is Comma and they are fantastic, they have helped me get to where I am now. If I win Formula 2 then I get a £500,000 contract and a Formula 1 test drive with Williams and the possibility to drive in Formula 1."
It's clear that James Cole understands the potential risks in driving at such high speeds, but also realises what an enviable position he is in.
He said: "It's pretty cool, I recommend everyone to try it if they can. It's one of those feelings you can't replicate, however hard you try. Even when you aren't driving particularly well, doing 180mph around Monza, for example, is a pretty good feeling."