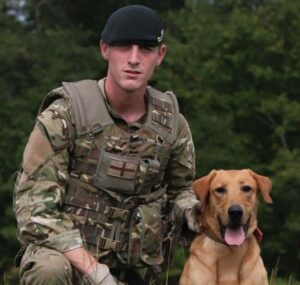 A Merseyside ex-serviceman is launching a new business called 'The Liverpool Hangover Service'.
Stephen Murtagh's idea, which has been a year in the making, involves delivering all manner of goods to the elderly or anyone who can't make it out of the house, including the hungover.
The 21-year-old from Old Swan, joined the military when he was 16. Two years later he became one of the youngest dog handlers serving in Afghanistan.
His role was to find IEDs (improvised explosive devices) but his life changed on 21 March 2012, just 14 days before he was due to return home, when he stepped on an IED and lost his leg as well as sustaining several other injuries.
Reflecting on the event, Murtagh told JMU Journalism: "After I left the coma I was in a wheelchair straight away and had to go to the gym. I spent five weeks in hospital then I got moved to Headley Court which is a rehab centre for injured soldiers."
After nearly a year spent relearning to walk, Murtagh went to Colorado in the United States to partake in skiing with a charity called Blesma. It was whilst there that he came up with the idea for 'The Liverpool Hangover Service'.
He explained he will charge £4 for the service, delivering anything from McDonald's to your favourite fizzy drink. Vulnerable people who struggle to make it out of the house will also be encouraged to use the service. Preparation has included recruiting drivers and having family on hand to answer the phone.
He said: "I'm inspired by my kids. Last year they thought I was going mad but I stuck at the idea because I believed in it. Now they believe I can do it."
The website will be launched this Saturday with an official launch party planned for 24 January. The Facebook group that has been already set up has built up over 5,000 Likes and several supportive comments.
He added: "I'm hoping to set up this business so I can help other people out. I want to build a care home for the mentally ill and old people. I would like to be a youth worker in the future."