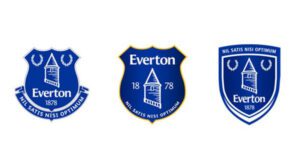 Everton Football Club have attempted to give fans their say on the team's new crest after a wave of protests about the new design this season.
For the first time, supporters will be given the chance to choose their next crest, restoring the club's motto 'Nil Satis Nisi Optimum', which means "nothing but the best is good enough", after dropping the slogan.
The club caused public outrage amongst fans and received an overwhelmingly negative response in May when they unveiled the new crest without the motto and 22,000 supporters signed an online petition condemning the 2013-2014 badge.
Proud Evertonian, Liverpool Mayor Joe Anderson, denounced the badge when he called for supporters' concerns to be listened to.
He originally tweeted: "@Everton look up the word #defile – to treat something sacred or important without respect. Vast majority of fans believe this has happened. @Everton listen to the fans. Badge design poor no NSNO [Nil Satis Nisi Optimum] absolutely out of touch, act now this will not become a popular major mistake."
After much deliberation and consultation via online and offline surveys in addition to a series of focus groups, over 20,000 people provided feedback and over 400 alternative designs were submitted, and this has been narrowed to three from which fans can select their preferred new logo.
The vote started at noon today (Monday) and any supporter with a valid customer number through past match ticket purchases or club membership, is eligible to select their favoured choice.
However, it seems some of the Everton faithful are still unhappy with the three choices given to them.
Joe Bennett tweeted: "Would be satisfied with the first Everton badge but it still needs some improvements, expected a lot more and better option."
Kieran Harrod tweeted: "#Everton new badge shortlist. This is why 20,000 people should not design a logo."
The voting window will remain open until 11.59pm on Tuesday October 1st and the winning crest will be revealed on Thursday October 3rd.
Listen to JMU Journalism Radio's interview with Everton Communications Director Alan Myers >>