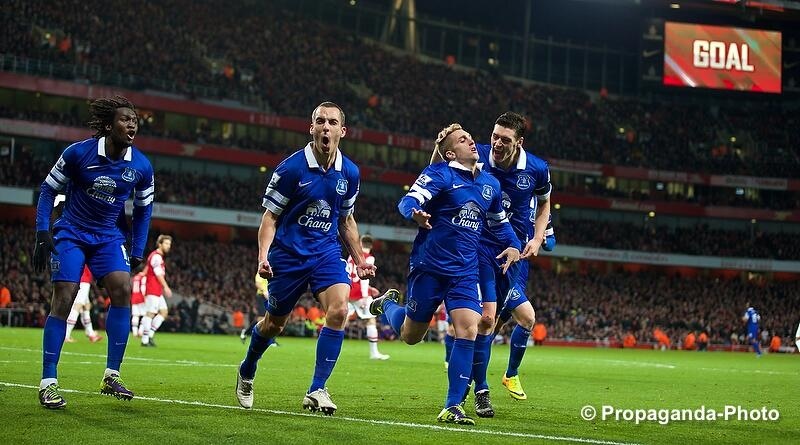 As Romelu Lukaku finished an effortless 16-pass sequence to give Everton a 2-0 lead at the KC Stadium yesterday, their visiting fans rose in unison and gave the side a thunderous ovation.
Things have changed on the blue half of Merseyside.
A season that was supposed to be one of transition has finished with Everton accumulating their largest points total in Premier League history and qualifying for the Europa League after several years of European exile.
Records have fallen: 21 wins overall; 13 home wins; seven consecutive wins – all Premier League bests for Everton. What is so different about the Toffees? What has transformed them?
Most would argue these achievement are the results of one man; a man named Roberto Martinez.
When it was announced that the Spaniard was to become the successor to David Moyes, who had been Everton manager for 11 years, reactions were positive, but tinged with reservations.
On the one hand, Martinez had led his last club Wigan Athletic to the FA Cup. On the other, he had also led them to relegation from the top division.
In his first press conference as manager, Everton chairman Bill Kenwright announced that Martinez had pledged to take them to the Champions League. Eyebrows were raised and stifled laughs could be heard.
Months later, and those raised eyebrows have made way for dropped jaws making sounds of approval.
Top of the table

1) Man City      P 38; Pts 86; GD +65
2) Liverpool     P 38; Pts 84: GD +51
3) Chelsea       P 38; Pts 82; GD +44
4) Arsenal        P 38; Pts 79; GD +27
5) Everton        P 38; Pts 72: GD +22
6) Tottenham   P 38; Pts 69; GD +4

Martinez didn't deliver Champions League football. But he almost did, and that was enough to persuade any doubters that he could transform Everton into a team that other sides fear to play.
The aforementioned Lukaku finish, Everton's last of this campaign, is just one of many excellent goals the Toffees have produced throughout the season and all of them have been the result of the attacking philosophy that Martinez has instilled into the side.
Many wondered how quickly the squad he inherited would adapt to his emphasis on controlling possession and attacking with almost reckless abandon. But, after a slow start in which time they drew their first three games, Everton took to the style terrifically.
For many of the club's fans, it has felt akin to having a world of black and white replaced with a kaleidoscope of brilliant colour.
The Everton teams that David Moyes cultivated over his long tenure at Goodison Park were noted for their combativeness, industry, and organisation. There was some silk mixed with that steel, but his teams were designed very much in the blueprint of the 'Dogs of War' from the 1990s.
What is perhaps most to Martinez's credit, then, is that he appears to have retained that solidity while infusing a level of flair and flamboyance unseen at Goodison Park since the title-winning Everton sides of the 1980s were marauding the pitch.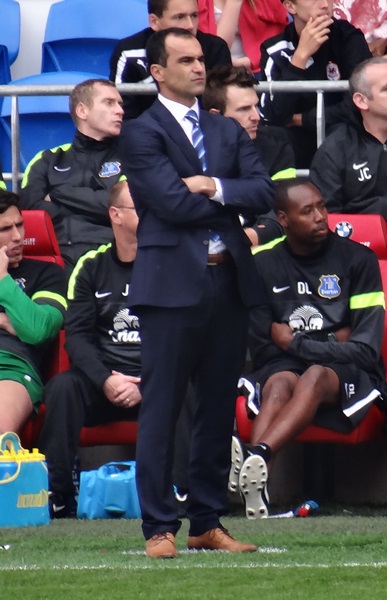 Everton's defence remains uncompromising – the third best in the Premier League, in fact – but under Martinez, the team has become a predominantly attacking side.
The transition, while outstanding, has not been flawless. At times they have been too meticulous in their approach and suffered for it; at Anfield, meanwhile, their approach proved to be their undoing as local rivals Liverpool caught them out over and over with counter attacks and inflicted a humiliating 4-0 defeat on Everton.
But while that was the lowest of lows, Everton's highs have more than made up for it. They did the double over former manager Moyes' new side Manchester United, and defeated Champions League rivals Arsenal a resounding 3-0.
Still, their season has not been without controversy. The success of loan signings Lukaku, Gareth Barry and Gerard Deulofeu has led to some criticism, though Everton fans will counter that it only gives them a fairer chance of success in a money-driven sport.
They will also point out that rapidly emerging favourites like Seamus Coleman, James McCarthy, John Stones and local, boyhood Everton fan, Ross Barkley, were not on loan.
For Everton, a season of transition has exceeded expectations in almost every possible way imaginable.
On the terraces, their fans chant that "the School of Science is on its way back". They're certainly not wrong.