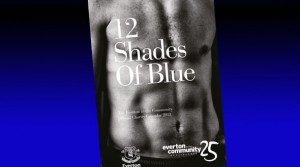 Move over calendar girls, here come the Everton calendar boys.Everton Football Club are launching a charity calendar featuring first team stars with their kit off.
David Moyes' players have posed topless as part of a calendar entitled '12 Shades of Blue' in order to raise money for Everton in the Community.
The charity is currently celebrating its 25th year anniversary and the calendar is part of a high profile campaign to raise awareness of Everton in the Community and the difference it has made to vulnerable and underprivileged people on Merseyside during the last quarter of a century.
The calendar, which is supported by Paddy Power and Wild Thang Ltd, is the first of its kind to be created by a Premier League club and available for £10. All proceeds go to the charity's ambition of raising £1million.
An Everton spokesperson told JMU Journalism: "We are delighted to be launching our new charity calendar, 12 Shades of Blue, in aid of Everton in the Community. The calendar forms part of Everton in the Community's 25th anniversary campaign, which will seek to raise awareness of the charity and also £1million to support the organisation for the many years to come.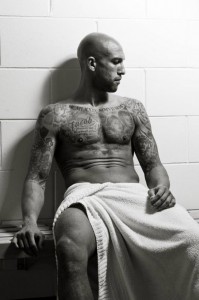 "We hope to raise a significant amount through sales of the calendar. First-team players, including Marouane Fellaini, Sylvain Distin and Tim Howard, were all keen to help out and raise money for the Club's official charity."
Within minutes of the official Everton Twitter account announcing the launch of the calendar '#12shadesofblue' was trending throughout the UK on the social networking site and large numbers of pre-orders have already been placed.
One female Everton fan, @Toffeecat10, tweeted: "Very excited about my #12ShadesOfBlue calendar. I'm sure my lovely hubby will buy me! Will work a treat in my Manchester office!!"
Even male fans approve of the idea. @PED7 tweeted: "#12ShadesofBlue is a very clever & will get the plenty of publicity & raise money for charity, well done the @everton players for doing it"
It is not the first time Everton have found inventive ways of raising money for charity. In 2007/08 the club launch a pink edition ladies shirt in order to raise money for the Breast Cancer Campaign.
In 2009 the club launched a limited edition purple kit to raise money for the Liverpool Unites charity in honour of murdered schoolboy Rhys Jones.