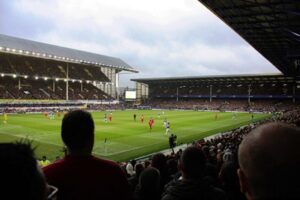 Everton FC have donated all foodstuffs meant for Monday night's postponed Merseyside derby to a local food charity.
Following the cancellation of the match at Goodison Park between familiar rivals Liverpool and Everton, North Liverpool Foodbank (NLF) received a bountiful donation from the club.
Due to the recent coronavirus pandemic, all Premier League matches have been cancelled until April 4 at the earliest.
The donated goods from Everton's food partners Sodexo includes 635kg of fruit and veg, 360 eggs, 65 litres of cream and 136 litres of milk.
Goodison Park caters for almost 40,000 derby match days, so it is clear to see what benefits this donation will have on a relatively small charity.
Twitter: Everton FC
???? | Our official catering partner @SodexoUK_IRE is donating more than 635kg of fruit and vegetables and additional produce originally intended for tonight's Merseyside derby to North Liverpool Foodbank (NLF). @SFoodbanks

— Everton (@Everton) March 16, 2020
A representative from the charity told JMU Journalism: "This donation is an unusual one but has come at a great time. We typically distribute non-perishable goods to people in need to last around three days."
He added: "Today, alongside the three-day food parcel, the recipients will get the perishable goods provided by Sodexo, which at this current time will be a great help."
North Liverpool Foodbank caters to more than 7,000 people annually, supplying emergency parcels to those in need.
Liverpool FC has also played their part, as after aiming to raise £10,000 they hugely exceeded their expectations in just 48 hours, with a £40k boost by the club's own players. This will be used to aid local food banks to support those in need.
Twitter: Liverpool FC
"Things like this transcend football. We got together with the idea of trying to raise £10k to fill the void, and to be here a little over 48 hours later with £50k of donations is the biggest testimony to this city."

Together with @SFoodbanks, @LFCFoundation & @Red_Neighbours ✊ pic.twitter.com/5GNt5ledhL

— Liverpool FC (@LFC) March 16, 2020