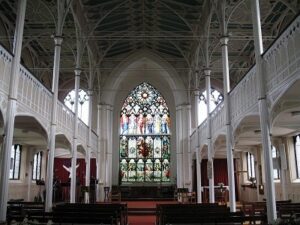 The future of one of Liverpool's most iconic churches is more secure, thanks to a grant from the Heritage Lottery Fund (HLF)… but more finds are required.
St George's Church in Everton is one of the North West's most important listed churches, and has been awarded a total of £132,000 to attempt to complete urgent structural work, under the Repair Grants for Places of Worship scheme.
The initiative is currently funded by the HLF and administered by English Heritage, and will continue to prioritise support for those who need it most. It will also enable applicants to apply for funding to support new works, such as the provision of toilets and kitchens, that will improve the functionality of the historic buildings making them fit for the future.
Speaking to JMU Journalism, Reverend Kate Wharton from St George's said: "The problem with our roof had got so bad that we knew something had to be done, so we applied to English Heritage and the Heritage Lottery Fund for a grant to begin work on it, which was approved.
"The work will be done in two phases. The first phase is estimated to cost around £165,000. We have been awarded an 80% grant, meaning that we will have to find approximately £33,000. This is a huge amount for us to rise as we are a small congregation from a deprived urban area."
The talk of the area's deprivation is a far cry from 1814, when the historic Grade 1 listed church was built. At this time wealthy merchants, whose businesses thrived at the docks, and who lived in mansions surrounding Everton, decided to show off their riches by building the church completely from iron; the first in the world to be constructed in such a way.
The church is now planning to launch a 'Friends of St George's' scheme to raise the extra funds and Revd. Wharton added: "Our building is very well loved in the local community and well used. We want to raise the money, finish the job and be able to continue being a Christian presence at the heart of Everton for at least another 200 years."
The current injection of money, which totals around £2.1million, will be shared proportionally between 20 sites in Merseyside, Cheshire, Lancashire and Cumbria.
Sara Hilton, Head of HLF North West, said: "Historic places of worship form prominent and much-loved landmarks in our villages, towns and cities across the North West.
"They are unique buildings that bring local communities together for a variety of reasons from worship through to culture and leisure. Since 1994, the Heritage Lottery Fund has invested more than £500million into these precious buildings across the UK and with these new grants we aim to ensure even more are secured for future generations to enjoy."