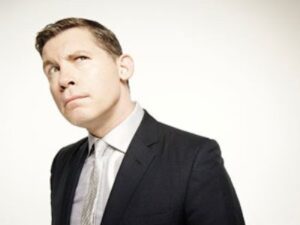 Lee Evans had the crowds cheering for more as he took his 'Roadrunner' tour to the Echo Arena.
In his first stand-up tour in three years, his last being 2008 show 'Big,' Roadrunner will take the comedian to 66 arena dates across the United Kingdom and Ireland and play to 600,000 people.
Evans was introduced to rapturous applause in Liverpool and kicked off the night with a joke in reference to the views and sites you can see from the big wheel in front of the arena: "Eh look, concrete… eh look, more concrete!"
In Roadrunner, the award-winning comedian, discussed everything from the anxious dilemma of overtaking police cars on the motorway whilst doing 70mph, always sticking to the path in IKEA otherwise you might end up in Narnia, and the vast number of the Nandos restaurants being like "a disease".
Seen by many as the heir to Sir Norman Wisdom, the ex-boxer is famous for sweating profusely during the course of his shows, for bringing towels on stage to dry himself off, and for changing suits at the interval. For this tour he has had 20 suits made.
Although the majority of his comedy centered around his wife, Heather, and his daughter, Evans touched the themes of the banking crisis, the economy and on the riots that occurred up and down the country.
He joked that the sports shop, Sports Direct, was not looted as the rioters thought it had already been hit, due to its large and unorganised volume of stock.
As well as stand-up comedy, Evans has also starred in numerous movies including, 'There's Something About Mary', 'Mousehunt', 'Funny Bones', 'The Martins' and 'The Fifth Element', as well as stage plays including 'The Producers', 'Endgame' and 'The Dumb Waiter'.
He also just released his autobiography, 'The Life of Lee', with a book signing event coming up at Liverpool One's Waterstones store on 26th November at 4pm.
The hard-working Evans revealed in his programme notes: "I go doolally sitting around at home. I had done a play and a musical and felt it was time to tour again. I can't not go on the road. It's the best buzz, even though you remember halfway through the tour that it is really gruelling."
The record-breaking comedian finished the night by playing one of his customary set-ending songs before then rocking out to 'Bohemian Rhapsody'… very apt for this charismatic rocker of a comedian.