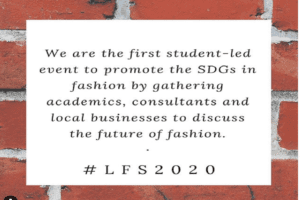 Liverpool is set to host its first fashion summit, aiming to "bring together the brightest minds to tackle the biggest issues in one of the world's largest industries".
Sustainable fashion is a movement that is becoming more popular as people want to recycle and re-use clothes rather than buy new ones from large high street retailers.
The Fashion Summit April will focus on this and host talks by guest speakers who will touch on subjects such as sustainability, circular economy, modern slavery and much more.
Olly Kennedy, the co-founder of the event, told JMU Journalism: "Liverpool Fashion Summit is a movement to bring local businesses, consumers, academics and thought leaders together to actually tackle some of the biggest issues in the fashion industry."
The summit will be an inclusive event which anybody can join in on. Robert Seidmann, who is also a co-founder, told JMU Journalism. "We just want to present information to people and let them decide what actions they need to take."
Twitter: Aoife Monahan
Had a nice morning speaking to Olly and Robert about @LFS2020.
Story to follow on @JMUJournalism pic.twitter.com/YXb7NzJf74

— Aoife Monahan (@AoifeMonahan6) February 18, 2020
Organisers believe consumers often buy clothing from the high street without thinking about how the item was created, who it was made by and what lasting effect it will have on our planet.
Many big retailers in the western world source their clothing from companies with low labour costs.
It has been claimed that textile production also leaves a bigger carbon footprint on the environment than international flights and maritime shipping combined. It is for these reasons, along with many others, that the founders of Liverpool Fashion Summit decided to hold this event.
Events will take place in Mountford Hall in Liverpool, aiming to educate people through upcycling workshops, documentary screening and much more.