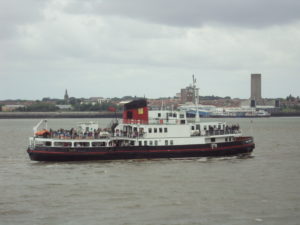 Boat lovers are appealing to the public to help restore an old Mersey Ferry to turn it into a floating heritage venue.
The Mersey Ferry Preservation Trust wants to take over the MV Royal Daffodil and bring it back into use, potentially as a museum.
The trust, established in October 2016, has reached out to gain as much support as possible in order to ensure the full restoration of the historic ferry.
After initially setting up the campaign on a Crowdfunding page, £2,000 is needed to carry out a feasibility study in order to make any improvements.
However, boat owners at Mersey Travel have only agreed in principle to gift the vessel to the trust to preserve the ferry.
Bill Taylor, Chairman of The Mersey Ferry Preservation, told JMU Journalism: "The trust's overall aim is to restore her and have her open to the public with many different functions.
"These will include a Mersey Ferry Heritage Centre, conference and function suites as well as tours of her, to name a few. We aim to recruit volunteers to help us achieve this."
YouTube: Brian
https://www.youtube.com/watch?v=BdqbcUTA8O4
The ferry currently sits out of use in Wallasey, but the trust is currently looking for a new berth for Royal Daffodil where they will then be able to restore her.
Its name will be changed to Overchurch, which was the ferry's official title until 1999 when it was refitted. The work required looks to be only cosmetic as she has been maintained to an extent during the four years it has been out of service since 2012.
Meanwhile, Mersey Ferries services resumed yesterday at 10am after a fire broke out last week on The Snowdrop 'Dazzle Ferry' just shortly following the resumption of the service after six weeks out of action.
Mersey Travel is hoping there will be a new ferry running in 2021 as part of the provider's 20-year vision for Mersey Ferries.