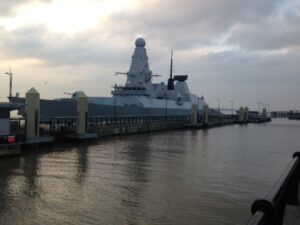 Liverpool's cruise terminal has been home to the Royal Navy's destroyer ship, HMS Dragon, over this weekend.
Hundreds of members of the public took a look at the ship, with many having their photos taken in front of the £1000m vessel.
One of six Type 45 class destroyers, HMS Dragon has not been fully accessible to locals, however.
Ross Bevan, based at the Liverpool Army Reserves, told JMU Journalism: 'It's not open for people to board, I'm afraid. The ship is fresh back from the Med, so it is visiting Liverpool for more of a social really, then it will be heading back to Portsmouth tomorrow.'
Since joining the Royal Navy fleet in 2012, the ship has been protecting trade imports coming into the UK, with the guided missile destroyer preventing drug running and defending against air attacks.
With 240 crew members on board, six of them call Merseyside home and they would no doubt have relished docking in the Mersey.