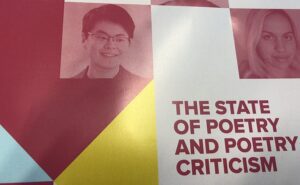 Published poets gave an inspiring talk on the importance of the exploration in power of women in the arts on Friday.
Both enthusiastic and aspiring female poetry writers gained a wealth of knowledge by published writers at the Tate event, helping to share their stories and the importance of mentoring each other in order to gain confidence in their writing skills.
Guests included Maria Isakova Bennett, who was the recipient of the Northern Writer's Award for poetry in 2017. She has also released 'Coast to Coast to Coast', a series of hand-stitched journals publishing the work of almost 100 writers with whom she has worked with.
Speaking at the event, Mrs Bennett was quick to mention how her short mentoring by award-winning poet Claire Pollard was key to her success.
She said: "I felt like I can share my work more now. I have the confidence to do so and mentoring was key to that. Anybody can become a poet, you just have to believe in your work and Claire was key to that."
Twitter: Stephen Rawlinson
I visited the Tate to hear from published poets and guests in attendance about how mentoring for women in poetry can help give them confidence to put their work out in the public eye. @JMUJournalism pic.twitter.com/2hQHt85HLs

— Stephen Rawlinson (@SteRawlinsonLL) November 15, 2019
Figures commissioned by Liverpool's Centre for New and International Writing found that only eight out of 30 poetry magazines, surpassed more than 50% of printed work by women in 2018.
These figures were discussed and the majority of the speakers on the day thought this could change if women helped each other to write material and find ways for their work to be published.
Pauline Rowe, who led the talk, told her story of how reading poetry as a Poet-in-Residence for Mersey Care and how reading for sick patients made her realise that there are more ways to perform their work than just publishing.
She told JMU Journalism: "We can speak it through opportunities like performance to find an audience. We don't need to have a book. Even performing in front of friends and hearing their approval can help you get the confidence you need."