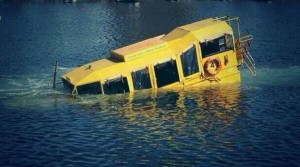 An official report looking into the cause of the sinking of a Yellow Duckmarine in Liverpool's Salthouse Docks  in June has revealed that a problem with the foam used for buoyancy was the reason for the vessel's failings.
The investigation has raised "serious concerns" over the famous duckmarine vehicles.
Although a full report is still not ready to be published, The Marine Accident Investigation Branch has stated that there was not enough 'buoyancy foam' in the boat's hull and that is one of the key issues and causes of the duckmarine's sinking.
Wacker Quacker 1, as the vehicle was known, sank in June with 31 passengers on board. Although no one was seriously injured the incident did result in several people, including young children, going to hospital for minor treatment after going into the water during the abandonment of the boat.
The incident followed another sinking of a different vessel in the fleet earlier in the year.
Although Pearlwind Limited, who operated the duckmarine tours in Liverpool, originally stated that it was a 'rogue tyre' blowing out that affected the boats propeller that caused the sinking. It has now become clear though that upon further inspection and testing by the MAIB the cause was actually with the buoyancy of the boat.
The MAIB's report says: "Tests and subsequent trials raised serious questions about whether the operators of DUKWs could fit sufficient foam internally to comply with the current requirement for 110% buoyancy without compromising the safe operation and the practical day-to-day maintenance of these vehicles."
There have been three incidents of amphibious vehicles sinking this year, twice in Liverpool and once on the Thames in London.
The duckmarines were a familiar sight around Liverpool since the excursions began in 2001 but since the incident Pearlwind Limited lost their licence to operate the tours.