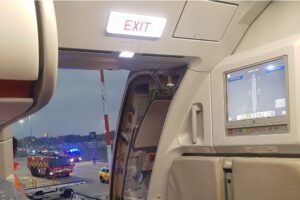 A passenger jet was forced to make a U-turn and an emergency landing at John Lennon Airport this morning after reports of a strange smell in the cockpit.
EasyJet flight EZY7159 from Liverpool to the Greek island of Zakynthos (Zante) had to turn back earlier today when the pilot reported problems just after take-off.
Emergency services were called at 7:30 am following the airport's procedures, rescue teams were placed on standby.
This latest incident comes two weeks after a different EasyJet flight had to make a similar emergency landing at JLA due to a fire on board.
Spokesperson for John Lennon Airport, Robin Tudor, told JMU Journalism: "Around about 7:10am this morning an EasyJet flight set off, and shortly after take-off the pilot contacted the airport to say that he would like to come back as there was a strange smell in the cockpit.
"So the plane returned to the airport, landed safely and parked up the same as any plane would and the passengers disembarked.
YouTube: JMU Journalism (March 2017)
"As it was an emergency, there were a lot of police, fire and ambulance services, as the airport always has when it comes to emergency precautions. However, they were not needed."
Mr Tudor added that 135 passengers were on the flight, and were due to take off on a replacement flight later this afternoon.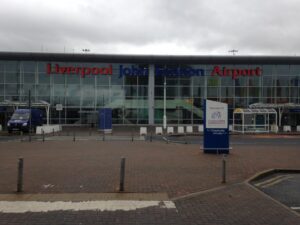 Merseyside Fire and Rescue Department said: "Crews were alerted at 7:34am and were on the scene at 7:39am. Three fire engines and the Search and Rescue Team were in attendance. Fire crews were at the airport for half an hour."
Twitter user Paul Seddon said: "EasyJet have been fantastic in dealing with the situation, all the staff and the captain have been very professional."
The news came on the same day as flights between Liverpool and Ireland were grounded due to the effects of Hurricane Ophelia across the Irish Sea.