Waiting to get my 'break' into the working world of journalism after I graduated in 2011 felt like a lifetime.
It looked as if it was never going to happen. I had applied for what seemed like hundreds of jobs, and to be honest quite a lot of the time the applications I had sent didn't even get acknowledged.
I did get a few interviews but unfortunately none were successful.
Every unsuccessful interview or application felt like a step back, but I never gave up hope.
Before I left LJMU, I had been applying for jobs, mostly journalism-related but I did face up to the reality that regardless I needed ANY job to earn money, all the while still looking and applying for my dream reporting role.
Shortly after graduation I secured a job in my nearest Debenhams retail store, as a sales advisor. It wasn't where I wanted to be but I knew I had to have a salary and it certainly wasn't me giving up on that journalism dream.
Within six months of working at Debenhams I was promoted to senior sales advisor, something I was not expecting, but nonetheless was proud of achieving in a short period of time. Four months later, I was promoted again to supervisor, which was another major shock but I did actually like the job and I was working with some great people.
Towards the end of October last year, I got an email completely out of the blue from the editor of one of our local newspapers in Northern Ireland, the Tyrone Times.
I had previously completed unpaid work experience with the Tyrone Times as far back as 2005, when I was still in secondary school. I had also worked unpaid with them for another couple of weeks at different intervals during summer months before I even started university.
The editor asked me to call him but no other details were given. I phoned him that afternoon and he was asking where I was working at present and that he may have a position for me but that it was still in the early stages.
I didn't get my hopes up; in fact I buried that phone call at the back of my mind so it wouldn't be too much of a disappointment if nothing ever came of it.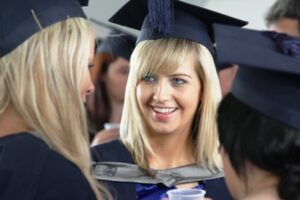 A week later the editor phoned me and offered me a job. He said I would be working for both Tyrone Times and Mid Ulster Mail newspapers as they had recently joined offices. I was ecstatic!
I had also completed two weeks work placement for the Mid Ulster Mail in my final year at JMU Journalism, so again it was something I was already familiar with.
I handed in my notice to Debenhams and thanked them for the opportunity they had given me. I was told I was going to be missed by the company but that they understood I was always going to pursue a job that I had trained three years for.
I've been working for the Tyrone Times and Mid Ulster Mail for four months now and I have to say I absolutely love it. There is always something happening; always a great story to be found.
Just last week I got my first front page lead, in both papers – a real personal highlight of my career so far.
The thing I think that has struck me most is that unpaid work placement really is invaluable. My entry into journalism proves that.
So my advice to students currently going through the process at JMU Journalism now or have maybe just graduated last year is NEVER GIVE UP!
My lucky break came when I was least expecting it, so maybe yours will too. Good luck!