Merseyside women took to the streets of Liverpool on Saturday with signs that read "stop rape now" to march in protest against violence towards females.
Members of Merseyside Women's Movement and the public battled against the rain as they protested against the onslaught on women's lives.
The march, which was part of International Women's Day, started at St John's Gardens and descended through Lime Street, Bold Street and ended at the Black-e.
Communication officer for the Merseyside Women's Movement, Chloe Emmott, told JMU Journalism: "The march is mainly about raising awareness about safety on the streets.
"When women go out on a Friday and Saturday night and men drive around in cars honk their horns and yell and shout out the windows verbal sexual harassment. It's a form of street harassment.
"Women should be able to go out in a skirt on the weekends and not be leered at by men."
Chloe added: "International Women's Day is so important to let other females know that there not alone in the fight for equality. It's about coming together and relating to one another as feminists.
"Feminists have come a long way but still have a fair bit to go to reach equality. There are still attitudes behind rape, assault and consent.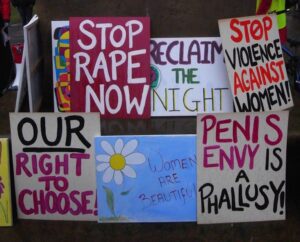 "There's still a culture where today's attitudes tend to blame the victim, in the sense that if they are dressed in a certain way they were asking for trouble.
"There are attitudes where people think that women are making false accusations if a female has reported a sexual assault that happened when she was drunk and sometimes the police don't take it seriously."
Merseyside Women's Movement, which was launched seven years ago, hopes to continue to promote feminism and women's politics in Liverpool through peaceful community action.