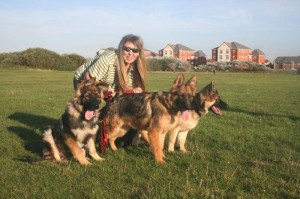 A Facebook campaign started by a Wirral dog groomer warning pet owners against the dangers of annually vaccinating their pets has shocked thousands of animal lovers online.
The campaign, which was started by Ann Ridyard, a dog grooming studio owner of over 20 years, was originally a simple flyer distributed from her small grooming studio in Wallasey, Merseyside.
The flyer encourages pet owners to move away from annually vaccinating their pet, without first researching the topic.
When the flyer was uploaded to Ann's Facebook page, she was shocked to find that it went viral after being forwarded by nearly 2,000 pet owners in less than a week.
"At first I was freaked out about how many people shared it, I didn't expect it to go round so quickly, especially when it reached Spain and Holland," she told JMU Journalism.
Ann believes that annual vaccines could be responsible for a number of common ailments in our four-legged friends.
The campaign has been backed by Canine Health Concern, a non-profit organisation set up in 1994 in order to promote natural methods of caring for pets.
Founder of CHC Catherine O'Driscoll was inspired to set up the organisation after losing three of her Golden Retrievers because of what she believes to be vaccine damage.
Despite the organisation's hard work, some owners have struggled to go against their vet's advice.
Catherine was pleased that the message is now reaching thousands:  "Ann seems to have found a way to say it that had meaning for people.
"I think it's because it was simple, straightforward and to the point.  It was also very hard-hitting," she said.
Head vet at Liverpool University Small Animal Practice, Katherine Linney agreed that a growing number of people are expressing concerns about vaccinations: "I can completely understand clients' concerns with over vaccination which is why we at our practice do not give the core vaccines every year and only give every three years.
"However, I cannot describe how distressing it is to see puppies and previously healthy young dogs die or have to be put to sleep due to conditions such as parvo virus."
The campaign has sparked controversy amongst Facebook users, with some commenting that the information is 'scaremongering' – however, the campaign has allowed many to speak out.
Ann Ridyard feels the campaign has had a positive outcome: "The reaction has been overwhelming, people are speaking out about their pets which have suffered what they believe to be vaccine damage, some of the stories people are sharing about their pets are heartbreaking.
"It has really made people question what they're doing- which is why I first gave the flyer out in the shop."