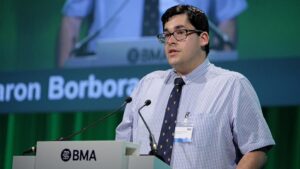 Controversial government proposals to change payments for 'unsociable hours' of junior doctors have been described as "profoundly dangerous" by one local medical representative.
Junior doctors of the British Medical Association across England, including Merseyside, have opposed Health Secretary Jeremy Hunt's new proposed initiatives, which include a change to working hours in a new seven-day NHS.
Over 28,000 junior doctors have voted in favour of taking industrial action on December 1st for Emergency Care medics, with the full withdrawal of labour planned by all junior doctors on December 8th and 16th.
The government plan involves a 25% cut in weekly hours that attract a premium unsociable hours payment, alongside an 11% pay increase.
Doctor Aaron Borbora, a Radiology Registrar at Aintree University Hospital and chair of the Regional Junior Doctors Committee has expressed his concerns over the government's proposal.
He told JMU Journalism: "The contract that Jeremy Hunt is threating to impose is profoundly dangerous, it is dangerous not just for doctors but also for patients and indeed the wider feature of the Health Service.
"The contract he proposes removes vital and proven safeguards against doctors working while as significantly fatigued or tired, something that is known to place patients at risk because of an increase chance at risks being made and that is why we're in this position."
Health Secretary Hunt has said: "It is regrettable that junior doctors have voted for industrial action which will put patients at risk and see operations cancelled or delayed. We want to ensure patients have the same quality of care across the week."
However, Dr Borbora told JMU Journalism: "He is absolutely refusing to give any ground in terms of financial safeguards or enforceability of the hours. In terms of pay, the devil as always is in the detail… this means that it will be significantly less attractive for future generations of doctors coming through."
In Merseyside, there are currently 290 doctors in training at the Aintree University Hospital and 504 at the Royal Liverpool and Broadgreen University Hospitals who are likely to be affected by the industrial action.
Dr Borbora said: "I can ensure you that there will be doctors who are not junior doctors and other allied professionals such as nurses at work, providing the skilled emergency care – just like they do 24 hours a day, seven days a week at the moment.
"There will of course be some short-term inconvenience for patients and this something we regret. However, we would ask people to balance that against the long-term risks of the contract. These risks include those of patients being exposed to tired doctors."